Leprechaun Champion
Discuss

8
22,489pages
on this wiki
Leprechaun Champion
Release date
9 November 2009 (Update)
Members?
Yes
Combat level
32
XP per kill
38.1 (and 12.6 experience)
Slayer level
1
Slayer XP
59
Always drops
Nothing
Examine text
Captain Joycey, champion of the leprechauns.

Combat stats
LP
Max hit
800
60
Attack
Defence
Ranged
Magic
16
16
1
1
Other
Immune to Poison?
Immune to Stun?
Yes
Unknown edit
Attack Speed

Speed 5 (Interval: 3.0 seconds)

Aggressive?
Poisonous?
Yes
No
Attack style
Weakness
Melee

Air spells

[view] • [talk]
The Leprechaun Champion, whose real name is Joycey, dwells in the training room below a trap door in the basement of the Champions' Guild. There is a separate trapdoor to the one that leads to the Champions of Champions Arena, where the player will meet the other champions.
In this fight, the player must fight unarmed, unarmoured and with an empty inventory, effectively making this a "safe" battle (as you have nothing to lose if you die). However, prayer can be used.
The Leprechaun Champion is the only champion that you don't need a scroll to fight, and can only be fought before you defeat any of the other champions.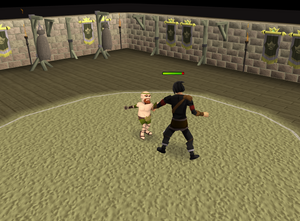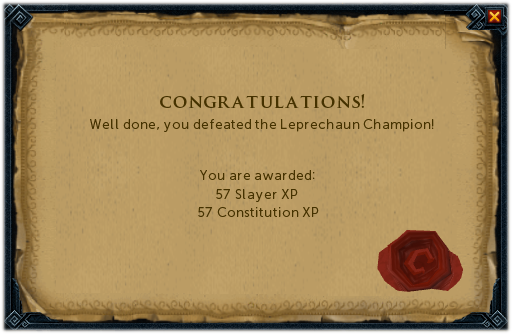 Like all champions, the Leprechaun champion drops nothing. You receive the calling beads as a reward for defeating the Leprechaun Champion.
When you go down the trapdoor, the Leprechaun Champion is seen hitting attack dummies.
He is the only champion not required to have a Challenge scroll to fight.
You will not unlock the 'Victory Is Mine' music track during this battle.
This is the only leprechaun that can be fought in the game.
It seems he is wearing roman soldier like sandals or Moonclan boots.
The training room can be seen north of Draynor Sewers by using the Orb of oculus.
Previously, he did not reward the calling beads, but after an update he does. However, people that fought him before the update do not get rewarded the beads.
Lower Champions

Imp • Goblin • Leprechaun • Skeleton • Zombie • Giant • Hobgoblin • Banshee • Ghoul • Aberrant Spectre • Earth Warrior • Jogre • Mummy • Lesser Demon

Champions of Champions
Scrolls

Imp • Goblin • Skeleton • Zombie • Giant • Hobgoblin • Banshee • Ghoul • Aberrant spectre • Earth Warrior • Jogre • Mummy • Lesser demon