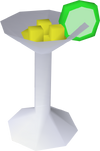 The Legendary cocktail is a quest item used in The Fremennik Trials quest. It is obtained by giving a promissory note to Thora the Barkeep in Rellekka. The cocktail can then be given to Manni the Reveller in exchange for a champion's token. If one asks Manni what it tastes like after giving it to him, he'll say it was mostly like tomato juice.
Disassembly
Edit
Ad blocker interference detected!
Wikia is a free-to-use site that makes money from advertising. We have a modified experience for viewers using ad blockers

Wikia is not accessible if you've made further modifications. Remove the custom ad blocker rule(s) and the page will load as expected.