The Leech (Hirudinae Acidia) is found in Morytania in the Mort Myre Swamp, in the Haunted Woods east of Canifis, and in the Chaos Tunnels.
Leeches are highly aggressive but rarely drop anything. These creatures don't appear on the minimap, and can therefore be a threat to low levelled players, although leeches do not deal a particularly large amount of damage. They can be dangerous, as they drain stats. They generally serve as a distraction to players who are hunting other monsters like Vampyre or Ghasts, or who are trying to travel through areas that leeches are found.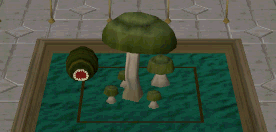 Represents 90% confidence range, based on a sample of 5,252 kills.
1 charm is dropped at a time.