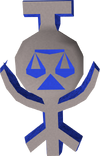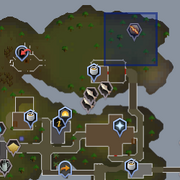 The Law talisman is an item that allows members to enter the law altar located in the northeast corner of Entrana. It can be combined with a tiara to make a law tiara for 47.5 experience at the law altar by using the tiara on the altar. This will make the talisman disappear, but the tiara can be used in just the same way and can be worn. Both the tiara and the talisman allow players to use the Runecrafting skill.
The law talisman was originally a reward for completing the Troll Stronghold quest, which was required in order to craft law runes, was not tradeable and instead of a drop option, it had a destroy option. On 7 May 2008 Jagex issued an update for the law talisman, and stated the law talisman was not a good enough reward for such a difficult quest, and replaced the talisman reward with two experience lamps, which give 10,000 experience each into any skill over level 30. They also made the talisman tradeable for members, and removed the quest requirement in order to craft law runes. The initial price was 1500 coins. The talisman can now be obtained as a drop from the monsters mentioned, traded from another player, purchased at the runecrafting guild for 125 tokens, or purchased on the Grand Exchange; allowing a much larger number of players to enter the law altar to craft law runes or law run.
As of 25 February 2009, as stated in the patch notes, the image for the law talisman and the body talisman has been improved to emphasise their differences.
The Law talisman can be used on the wicked hood, giving the hood two free teleports to the law altar, and 5 free law runes every day. This will consume the talisman.
Drop sources
Edit
This list was created dynamically. For help, see the FAQ.
To force an update of this list, click here.
For an exhaustive list of all known sources for this item, see here.
Disassembly
Edit
Ad blocker interference detected!
Wikia is a free-to-use site that makes money from advertising. We have a modified experience for viewers using ad blockers

Wikia is not accessible if you've made further modifications. Remove the custom ad blocker rule(s) and the page will load as expected.