For the Gielinorian Giving host, see
Lau'Ra
.


Laura is one of the persons involved in the Meeting History quest. A player may visit her in the past when the quest is started or completed. She is married to Roger, and together they have 2 children: Sarah and Jack.
Although she may seem mean, she is much nicer when players complete the quest.
In "Past B", Laura has grown old. She has white hair, and carries a walking stick.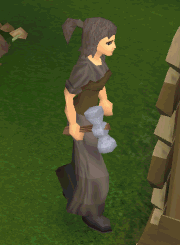 Ad blocker interference detected!
Wikia is a free-to-use site that makes money from advertising. We have a modified experience for viewers using ad blockers

Wikia is not accessible if you've made further modifications. Remove the custom ad blocker rule(s) and the page will load as expected.