A large energy wisp is a wisp encountered during the world event The Bird and the Beast. The wisps are found from the Anima Mundi that were created as a result of Guthix's death. Players will be given a notification stating that the "wisps discovered here are unusually large, increasing gathering rate".
At each stop during a convoy run, the diviners for each convoy, Bandosian diviners and Armadylean diviners, will try to locate divine energy stating "Seeking divine energy!" several times. After their unsuccessful attempt, the convoy will move on. Upon reaching their destination site, the diviners will successfully find the divine energy and will start harvesting. The wisps are siphoned by players and the diviners using the Divination skill.
The divine energy collected by each faction will then be used in their ultimate weapons, the Scarecrow and the Divine Focus, by the two opposing gods, Bandos and Armadyl.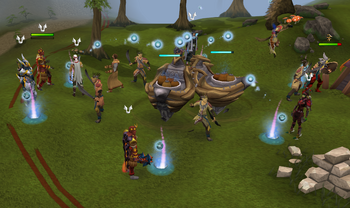 NPCs

| | |
| --- | --- |
| Armadyleans | |
| Bandosians | |
| Others | |

Combatants

| | |
| --- | --- |
| Armadyleans | |
| Bandosians | |
| Random events | |

Wisps
Large energy wisp
Warpriest armour
Tokens
Overrides

| | |
| --- | --- |
| Armadylean | |
| Bandosian | |
| Titles | |

Emotes
Other items
Locations
Ad blocker interference detected!
Wikia is a free-to-use site that makes money from advertising. We have a modified experience for viewers using ad blockers

Wikia is not accessible if you've made further modifications. Remove the custom ad blocker rule(s) and the page will load as expected.