The Large combat training dummy crate is a crate won off of Treasure Hunter. When opened, players have the option to take a melee training dummy, a ranged training dummy, or a magic training dummy. They were initially available from 12 to 18 August 2014. They returned during the Time to Train promotion in February 2016. The crate contains 7 dummies.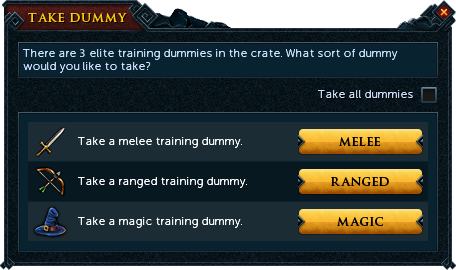 Crates
Dummies
Ad blocker interference detected!
Wikia is a free-to-use site that makes money from advertising. We have a modified experience for viewers using ad blockers

Wikia is not accessible if you've made further modifications. Remove the custom ad blocker rule(s) and the page will load as expected.