Lady Carys Hefin is the leader of the Hefin Clan of elves. During Plague's End, she is discovered to have been residing as a hermit in the poison wastes as the Elf hermit. She can be found at the Hefin district in the north west part of Prifddinas off the north path when the city is restored. She is posing at the serenity posts where one can follow her lead.
During The Light Within, she can be spoken to together with Lord Amlodd regarding the whereabouts of the Seren shard of wisdom. Together with the two Hefin monks and an adventurer, she cleanses the Corrupted Seren Stone into the shard.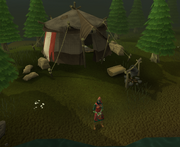 Part 9 of the Elf quest series
NPCs
Enemies
Items
Rewards
Locations
Music
Miscellaneous
NPCs
Items
Rewards
Locations
Miscellaneous
Ad blocker interference detected!
Wikia is a free-to-use site that makes money from advertising. We have a modified experience for viewers using ad blockers

Wikia is not accessible if you've made further modifications. Remove the custom ad blocker rule(s) and the page will load as expected.