Kurask
Release date
26 January 2005 (Update)
Members?
Yes
Combat level
112
Beta: 78
XP per kill
332.5 (and 109.7 experience)
Always drops
Bones
Examine text

Large, heavy, with sharp things attached to its head.
Larger, heavier, with sharper things attached to its head.

Slayer info
Slayer level
70
Slayer XP
121.2
Assigned by
Chaeldar, Sumona

Combat info
LP
Max hit
5,600
224
Attack
Defence
Ranged
Magic
Unknown
Unknown
Unknown
Unknown
Immune to Poison?
Immune to Stun?
No
No
Attack Speed

Speed 6 (Interval: 2.4 seconds)

Aggressive?
Poisonous?
No
No
Attack style
Weakness
Melee

Air spells

[view]
Kurask are large, green, bull-like monsters that can be found in the second to last chamber of the Fremennik Slayer Dungeon and on the lower level of the Pollnivneach Slayer Dungeon. They require 70 Slayer to kill.
Kurask, like turoth, must be killed with either a leaf-bladed sword, leaf-bladed spear, and/or Slayer Dart spell (which also requires a Magic level of 50), or broad arrows/broad-tipped bolts, or else the player's attacks are ineffective. Kurask are assigned by Sumona and Chaeldar.
Biology and nature
Edit
Kurask are somewhat similar to gorillas, although they share some traits with other animals such as their large horns which are similar to a bull's. They are grey to pale green in colour and have rows of hooked horns protruding from their back. They have three stomachs, the third of which has a special stomach lining that prevents food from being digested. Within the stomach a ceremonial fruit is stored for the duration of the kurask's life. Their lifespan is of an unknown length, but surpasses that of humans. They ideally come of age at 80 years. There is also evidence that they can breathe underwater.
It was revealed in issue 23 of Postbag from the Hedge that kurask are somewhat intelligent, and have their own rites of passage and language[1]. Kurask society dictates that individuals should not come in contact with other races unless they are hunting. Those that disobey this are generally shunned or even banished.
At age 80 kurask partake in a coming-of-age ritual called Kurisk. This generally kills one-third of those that attempt it. The kurask are sent "over a plain" and then "under the sea" to retrieve a fruit from the human lands (this is thought to mean through northern Kandarin, under the Southern Sea, and onto Karamja). Those that return are treated as adults.
"
To become a kuraski, at the age of 80, a kura must leave the cave and complete the rite of Kurisk [...] a kura must then pluck a fruit from a tree and bring it back to Kuriskia.

Then they become kuraski and the fruit is ingested whole, held in a third stomach until death and preserved by our stomach lining. You did not, by any chance, eat it, did you?

"
 
Since the discovery of the Slayer Dungeon beneath the Kharidian settlement Pollnivneach, kurask society's origins and schisms have been called into greater question. The nature of the Pollnivneach Slayer Dungeon is still largely unknown, although its workings are obviously artificial; it possesses constructed portals to the Fremennik caves, amongst other slayer-related locations. It is unknown whether kurask originated in the Kharidian Desert or Fremennik Province, if either.
The idea of living in solitude and isolation that governs kurask society is very similar in nature to that of the scabarite race which follows Scabaras's ideologies. If the kurask race originated in the Kharidian Desert, it is possible that they were influenced by the scabarites, who were very active (although at the time probably all humans) during the Third Age, roughly when the dungeon is believed to have been created and active.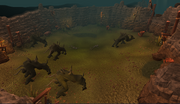 Kurask possess a basic language. Little is known of it, and only a few words have been translated; most by Skuhavi, a kurask banished for his interest in humans. Below is a list of known words in the kurask language[1].
Skutask - Interest.
Shallask - Alas, or an expression of anger/regret.
Skarooom - Dooom!
Kuraski - A kurask that has completed Kurisk, an adult. Must be at least 80 years old.
Kura - A child, or one who has not completed Kurisk.
Kurisk - Rite performed by Kura. Named after a legendary kurask hero that first performed the travel to Karamja.
Kuriskia - A kurask city.
Locations
Edit
Strengths and weaknesses
Edit
Players must use a leaf-bladed weapon, broad arrows, broad-tipped bolts or the Slayer Dart spell when fighting these. Using any other weapon is completely ineffective. The dwarf multicannon does not work, and the deflect curses will reflect damage although not much. (familiars do work)
After the Evolution of Combat, the best way to kill these is with the Slayer Dart. It is possible to kill them in 2 or 3 hits with this method.
Strategies
Edit
100% drop
Edit
|   | Item | Quantity | Rarity | GE Market Price |
| --- | --- | --- | --- | --- |
| | Bones | 1 | | 297 |
Represents 90% confidence range, based on a sample of 24,365 kills.
1 charm is dropped at a time.

Herblore ingredients
Edit
Rare drop table drops
Edit
This monster has access to the rare drop table.
The ring of wealth is not required to access the table.
Show/hide rare drop table
Item
Quantity
Rarity
GE Market Price
Coins
250 – 450; 3,000;
9,000; 10,000; 12,000
Common
Not sold
Uncut sapphire
1
Common
1,368
Uncut emerald
1
Common
2,997
Uncut ruby
1
Common
3,806
Uncut diamond
1
Uncommon
6,277
Loop half of a key
1
Uncommon
19,487
Tooth half of a key
1
Uncommon
43,434
Uncut dragonstone
1
Rare
15,516
Dragonstone
1
Rare
10,710
Dragon dagger
1
Uncommon
16,438
Rune battleaxe
1
Rare
23,920
Rune javelin
5
Rare
880
Adamant javelin
20
Very rare
1,060
Rune 2h sword
1
Very rare
37,386
Rune spear
1
Very rare
11,311
Dragon spear
1
Very rare
35,975
Dragon dagger
50 (noted)
Very rare
821,900
Rune sq shield
1
Very rare
22,436
Rune kiteshield
1
Very rare
32,191
Shield left half
1
Very rare
64,290
Dragon helm
1
Very rare
59,080
Adamant bolts
200
Uncommon
22,200
Onyx bolts
150
Rare
1,265,850
Rune arrow
150–200, 500
Rare
22,650–75,500
Battlestaff
200 (noted)
Rare
1,622,200
Air orb
1,000 (noted)
Rare
2,630,000
Fire orb
1,000 (noted)
Rare
2,084,000
Vecna skull
1
Very rare
101,881
Water talisman
1
Uncommon
13,892
Earth talisman
25–35 (noted)
Uncommon
77,100–107,940
Fire talisman
25–35 (noted)
Uncommon
80,375–112,525
Chaos talisman
1
Uncommon
960
Nature talisman
1
Uncommon
303
Pure essence
500–15,000 (noted)
Uncommon
9,000–270,000
Nature rune
20–80
Rare
6,000–24,000
Soul rune
20
Rare
3,280
Law rune
45
Rare
12,240
Death rune
50, 121
Rare
8,450–20,449
Blood rune
50
Rare
16,100
Raw swordfish
125–250, 1,000 (noted)
Uncommon
46,000–368,000
Raw shark
250–500 (noted)
Uncommon
406,000–812,000
Big bones
150–500 (noted)
Uncommon
90,600–302,000
Coal
150–7,500 (noted)
Uncommon
32,700–1,635,000
Adamantite ore
150–800 (noted)
Uncommon
323,100–1,723,200
Silver ore
100 (noted)
Rare
10,200
Runite ore
100 (noted)
Rare
1,155,600
Adamant bar
1,000–7,000 (noted)
Rare
3,165,000–22,155,000
Rune bar
1, 50, 150 (noted)
Rare
14,398–2,159,700
Clean ranarr
33 (noted)
Uncommon
122,760
Clean toadflax
25–250 (noted)
Uncommon
120,275–1,202,750
Clean snapdragon
30–120 (noted)
Uncommon
146,490–585,960
Clean torstol
10–100 (noted)
Uncommon
76,080–760,800
Saradomin brew (4)
250 (noted)
Very rare
178,250
Watermelon seed
3
Uncommon
5,913
Yew seed
1–50
Rare
68,615–3,430,750
Magic seed
1–7
Rare
153,198–1,072,386
Palm tree seed
10
Rare
1,001,410
Snapdragon seed
1
Rare
2,319
Torstol seed
1–31
Rare
23,156–717,836
Fellstalk seed
2
Rare
2,242
Yew logs
50–20,000 (noted)
Rare
23,450–9,380,000
Crystal triskelion fragment 1
1
Very rare
Not sold
Crystal triskelion fragment 2
1
Very rare
Not sold
Crystal triskelion fragment 3
1
Very rare
Not sold
Brawling gloves (Melee)
1
Very rare
Not sold
Brawling gloves (Magic)
1
Very rare
Not sold
Brawling gloves (Ranged)
1
Very rare
Not sold
Brawling gloves (Agility)
1
Very rare
Not sold
Brawling gloves (Cooking)
1
Very rare
Not sold
Brawling gloves (FM)
1
Very rare
Not sold
Brawling gloves (Fishing)
1
Very rare
Not sold
Brawling gloves (Hunter)
1
Very rare
Not sold
Brawling gloves (Mining)
1
Very rare
Not sold
Brawling gloves (Prayer)
1
Very rare
Not sold
Brawling gloves (Smithing)
1
Very rare
Not sold
Brawling gloves (Thieving)
1
Very rare
Not sold
Brawling gloves (WC)
1
Very rare
Not sold
Universal drops
Edit
Universal drops are dropped by every monster outside of Daemonheim.
These drops are dropped alongside main drops.
|   | Item | Quantity | Rarity | GE Market Price |
| --- | --- | --- | --- | --- |
| | Key token | 1 | | Not sold |
References
Edit