Kringk is one of the ogress hairdressers, found in the spa town of Oo'glog. After completion of As a First Resort, players are able to purchase ogre wigs from Kringk for 50 coins. Kringk can be found combing Grimechin's hair in the salon after completion of the quest.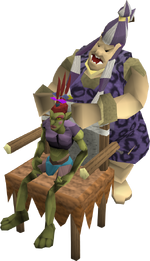 Dialogue
Edit
NPCs
Items
Locations
Music
Miscellaneous
Ad blocker interference detected!
Wikia is a free-to-use site that makes money from advertising. We have a modified experience for viewers using ad blockers

Wikia is not accessible if you've made further modifications. Remove the custom ad blocker rule(s) and the page will load as expected.