Kree'arra/Strategies
Discuss

4
22,529pages
on this wiki
NOTE: After the update on 5 September 2012, you no longer need a mithril grapple to access Armadyl's Eerie.
Kree'arra is the Armadyl general in the God Wars Dungeon. It is extremely deadly against unprotected players. It has moderate range and mage defence and players can kill it according to their recommended style. Kree'arra and his bodyguards can drop the famed Armadyl armour (Armadyl helmet, chestplate, chainskirt, boots, buckler, gloves). Kree'arra can also drop the Armadyl hilt, which is used to create one of the four Godswords.
Because of Kree'arra's attacks and the tedious 40-Armadyl killcount, he is rarely killed, meaning worlds are usually empty, unlike K'ril or Graardor.
Always keep your RANGE PROTECTION prayers on or you will be dead with 2-3 hits.
Melee attack: This is only used if no one is attacking the boss. Each hit has a maximum of 1500 damage, and is done right after the other, similar to the old dragon dagger special attack, meaning it can deal up to 3000 lifepoints instantly. 
Mage attack: Blue tornado that rapidly advances towards the player. Deals up to 1000 damage. It is unknown if it is magical ranged or basic magic as players in Ganodermic have reported being hit often by this attack, despite Ganodermic's high magic defence.
Range attack: The most deadly attack. This can hit extremely high with a max of 1500. Players must always keep their range prayers on or they will risk a very quick death. This is commonly used by him and is notified as a fog coming your way. Before the graphical update it was a gray tornado.
Note: The mage and range attacks are single-hitting, however, Kree'arra's attacks are varied. When there is more then one person in the room, Kree'arra will launch multiple attacks at once, and the attack can be the same or different.
After the Evolution of Combat, there are several ways to kill this boss, due to the low maximum hits and the fact that the boss has no weakness at all.
Soul Splitting 
Edit
See the setups.
You should be using at least level 75+ gear, despite the no-weakness symbol. Level 70 gear is optional, as it still hits as often. However, by using level 75+ gear, you should be able to hit quite as often and hard on the boss where when using Soul split, the damage recieved from the kill will be basically removed because of Soul Split's ability. While using this method, however, a Demon horn necklace or Split dragontooth necklace is a must to replace lost prayer points. A bonecrusher is optional, however it should be taken unless the player wishes to bury the bones as one bonecrusher requires 34,000 Dungeoneering tokens if one is lost.
The Vampyrism aura may also work well here due to the fact that it can heal players, and the damage rate you should do will replace some lost health. You can also pick up the various food dropped by the minions (either 3 Mushroom potatoes, which heal as much as a shark, or 2 Manta rays, which heal almost as much as a Rocktail), but these drops are uncommon. The minions are also known for dropping noted Crushed nests, which are helpful in creating Saradomin brews in the future.
The boss also drops Super ranging potions, which if the player wishes to bring Grenwall spikes, turn them into Extreme ranging potions, given that they have the required Herblore level. 
A Pak yak should be used for healing and banking any loots that one may recieve from the boss or minions. Always check the area throughly, as sometimes some items may not be seen, espically in high detail or if too many drops accumulate in a tile. The altar can be used for occasional prayer restoration. If the player cannot make Overloads or wish to bring a Bonecrusher and a prayer necklace, you can bring Prayer potions and some food incase the boss seems to deal lucky hits on you.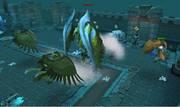 Recommended Equipment - Ranged Setup
Edit
* Completing the Elite Seer's Village Tasks and all previous difficulties is very useful, as it will make the special effects of enchanted bolts activate more often. One does not need to be wearing the Seer's headband 4 to get this effect.
*** Despite being a powerful weapon Karil's crossbow is only capable of firing bolt racks restricting it from firing enchanted bolts making it less useful than it may seem.
**** Despite lacking the defence of higher level options culinaromacer gloves and Dragon Rider gauntlets and boots are considered all class items which gives their full defensive boost against all combat styles which can greatly reduce the need for food.
***** Although mercenary's gloves are of a higher level and range class compared to the barrows gloves, the barrows gloves provide much better defensive bonuses as it is classless.
Recommended Equipment - Magic setup
Edit