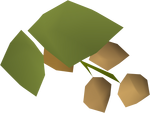 Krandorian hops can be used to brew dragon bitter. Four Krandorian hops and level 39 Cooking are needed to brew it. They can be grown from Krandorian seeds at level 21 Farming. They take an average of 65 minutes to grow.
It gives 17 experience when planted, and 19.5 experience when harvested.
A farmer will look after the hops for you for 3 sacks of cabbages.
For 15 Krandorian hops, a farmer will look after your Grapevine.
Store locations
Edit
This list was created dynamically. For help, see the FAQ.
To force an update of this list, click here.
Disassembly
Edit
Their name is a reference to the isle of Crandor which features in the quest Dragon Slayer and the fact it is brewed into dragon bitter is a reference to the fact that Crandor was destroyed by the dragon Elvarg.
Allotment produce
Flower produce
Hops
Bush produce
Tree produce
Fruit tree produce
Special produce
Ad blocker interference detected!
Wikia is a free-to-use site that makes money from advertising. We have a modified experience for viewers using ad blockers

Wikia is not accessible if you've made further modifications. Remove the custom ad blocker rule(s) and the page will load as expected.