Ad blocker interference detected!
Wikia is a free-to-use site that makes money from advertising. We have a modified experience for viewers using ad blockers

Wikia is not accessible if you've made further modifications. Remove the custom ad blocker rule(s) and the page will load as expected.
Koschei the Deathless
Release date
2 November 2004 (Update)
Members
Yes
Combat level
N/A

"All Combat level::N/A" is not a number.

XP per kill
Unknown edit
Examine text
• Your challenge awaits!
• He lives again!
• He keeps on living!
• He just keeps on going.
• Warrior of the Fremennik.
[FAQ]
•
[doc]
Koschei the Deathless is an alter ego of the Mahjarrat Kharshai. Until completion of Koschei's Troubles, his true identity is known to neither the player nor himself.
His combat level is not shown, but he will get progressively stronger, and gains increased life points, defence, and strength each time he is defeated. Although the fourth form is difficult, it is not impossible to defeat him. If he is defeated the player will be rewarded with a Fremennik blade. His fourth form uses incredibly fast attacks that hit less than his previous ones; however, the attack speed more than compensates for the lower damage dealt. He can be fought again after the quest as a Class E boss in the Dominion Tower, with the same moves and abilities as he had in the quest, but now able to be fought with armour and weapons.
Strategies
Edit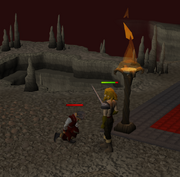 As no weapons or armour can be used, it is recommended to switch to Legacy Mode to fight Koschei unarmed. He is not difficult for mid to high level players, and can be defeated with little to no food, though it is still recommended to bring some. Rings of recoil will help for the fight - more significantly for lower levels.
It is interesting to note that, if you manage to kill him three times, decide to try and kill him a fourth time, but find yourself unable to, the trial will still be deemed as a success. Once your life points reach 10, the player will kneel down and be transported back to Thorvald, still completing the trial, if they are on his fourth form; they will die a normal death and lose their items if its any of the previous forms.
It is possible to smuggle certain weapons into Koschei's chamber, as you can take an unhilted godsword.
Koschei has many traits (including the trait of being hard to kill) that are similar to that of the Russian Legend of the same name. However in this legend, Koschei's soul was in a needle, inside an egg, inside a duck, inside a hare, inside an iron chest, which was buried under a green oak tree, which is on the island of Buyan, in the ocean. The only way to defeat him was if the egg or the needle was broken, and in some legends it has to be done on Koschei's forehead.
If you kill a form of Koschei during the warrior's trial, during the Fremennik Trials, when the next form spawns, a glitch will occur, and 2 Koscheis will spawn, overlapping each other. However, once you attack him, the clone will disappear.
In Slavic folklore, Koschei the Deathless is an antagonist who cannot be killed because his soul is stored in some place outside of his body.
Bosses

Class A
Class B
Class C
Class D
Class E
Class F
Class G
Class H
Class X1
Class X2
Miscellaneous
Music

Dominion Lobby
Dominion Tower