King Black Dragon
Discuss

82
22,528pages
on this wiki

This article has a strategy guide here.
King Black Dragon
Also called
KBD
Release date
24 September 2002 (Update)
Members?
Yes
Combat level
120
XP per kill
2265.5 (and 747.6 experience)
Slayer level
1
Slayer XP
1,104.5
Assigned by
Sumona, Duradel or Lapalok, Kuradal
Always drops
Dragon bones and black dragonhide
Examine text
Was the biggest, meanest dragon around.

Combat stats
LP
Max hit
45,000
821+ (melee), 4,205+ (Dragonfire) without an anti-dragon or dragonfire shield)
Attack
Defence
Ranged
Magic
60
60
60
60
Other
Immune to Poison?
Immune to Stun?
No
Yes
Attack Speed

Speed 8 (Interval: 1.2 seconds)

Aggressive?
Poisonous?
Yes
Yes (100)
Attack styles
Weakness
Melee
Magic
Dragonfire

Nothing

[view template]

The King Black Dragon is an enormous, three-headed black dragon. He was the second dragon ever created by one of Kerapac's fellow dragonkin. One decade later, he was released, though he is much easier to kill than any of the God Wars generals. 
The King Black Dragon can also be killed for Slayer if a player's task is black dragons. The bonuses of the Slayer helmet and the dragon slayer gloves apply on this monster if on a Black Dragon task. Players also gain a 10% damage bonus if they choose to travel through the wilderness to get to his lair instead of using the teleport at Edgeville. Players can gain a decent damage bonus on the King Black Dragon if they use all of these bonuses. This boost can be increased with a Dominion marker. He also has a damage cap of 5,000 for a normal attack, and 6,000 on a critical hit. Players should take this cap into account when using Incendiary Shot.
Getting there
Edit

There are two ways that player's can reach the King Black Dragon's Lair.
Northwest of the Edgeville lodestone is an Artefact. Activating it teleports the player to the lair.
There is a ladder in level 42 of the Wilderness, near the western part of the Lava Maze. Wilderness Obelisks may be useful in reaching it. Players using this method may want to bring an antipoison for the poison spiders that they will encounter. Entering the lair via the Wilderness will give players a 10% damage boost against the King Black Dragon. Players must be wary of player killers, although the chance of encountering one is slim.
The King Black Dragon uses melee when fighting and also uses four different types of dragon breath attack that have fairly devastating effects, which makes him a well-rounded and difficult foe. His dragon breath attacks are:
Regular dragonfire. (All adult dragons use this)
Shock-like breath that can reduce your stats. It is suggested that you have 75 defence or higher and good magic defence armour. All stats will be lowered by 1 or 2 points. Super restores should be used but are not required.
Ice breath that can stop players from moving or attacking.
Poison breath that will deal 80 poison damage. You should bring at least 1 anti poison potion if you want to kill him.
All of these breath attacks can deal heavy damage to unprepared players. Unlike other adult dragons, there is no possible way to negate any form of attack except the melee and regular dragonfire. The breaths can deal various damage, though using an Anti-dragon shield and a dose of Antifire or Super antifire will take the damage from the special breaths down to 100. The attack also has a chance to do its special ability.
Suggestions for fighting
Edit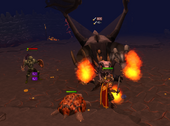 An anti-dragon/dragonfire Shield in conjunction with an antifire potion are essential to fight the King Black Dragon, as without the dragon can hit well over 4,000. Make sure to have both the shield and antifire potion, otherwise the dragon can still hit over 2,000. A combo of an antifire potion, and protect from magic can serve the same purpose, allowing you to use a two handed weapon, like a godsword.
There are no specific levels required to fight this monster, but for players who wish to melee in a team, having a combat level around 140 should be enough and for players who wish to fight using ranged in a team, having a ranged level in the mid 60's will suffice for two to three kills if in a two man team with 70+ defence and using ruby bolts (e). If not then ranged level 85+ is recommended. It is also recommended for players to stand on either side of the dragon, causing it to turn around constantly to attack. It is not possible to use a dwarf multicannon - it will be destroyed. Though ranged is a very good way to kill the dragon, it is not the only one - magic is also viable.
100% drop
Edit
Represents 90% confidence range, based on a sample of 1,274 kills.
4 charms are dropped at a time.

Ammo and runes
Edit
Ores and bars
Edit
Item
Quantity
Rarity
GE Market Price
Adamant bar
1, 5 (noted)
Uncommon
3,242–16,210
Rune bar
1,2 (noted)
Uncommon
13,006–26,012
Silver ore
100 (noted)
Uncommon
11,000
Gold ore
50 (noted)
Uncommon
17,650
Runite ore
3 (noted)
Uncommon
31,383
Rare drop table drops
Edit
This monster drops items from the rare drop table.
The ring of wealth improves the chances if equipped but is not required to access the table.
Show/hide rare drop table

Item
Quantity
Rarity
GE Market Price
Coins
250; 381; 450; 3,000; 9,000; 12,000
Common
Not sold
Uncut sapphire
1
Common
1,121
Uncut emerald
1
Common
1,741
Uncut ruby
1
Common
3,649
Loop half of a key
1
Uncommon
7,954
Tooth half of a key
1
Uncommon
12,275
Uncut diamond
1
Uncommon
7,396
Uncut dragonstone
1
Rare
14,574
Dragonstone
1
Rare
9,556
Dragon dagger
1
Uncommon
17,219
Rune battleaxe
1
Rare
24,667
Rune javelin
5
Rare
1,275
Adamant javelin
20
Very rare
980
Rune spear
1
Very rare
11,844
Dragon spear
1
Very rare
37,094
Dragon dagger
50 (noted)
Very rare
860,950
Rune kiteshield
1
Very rare
32,349
Shield left half
1
Very rare
65,262
Dragon helm
1
Very rare
59,709
Adamant bolts
200
Uncommon
17,200
Rune arrow
150–200; 500
Rare
29,250–195
Onyx bolts
150
Rare
1,296,300
Battlestaff
200 (noted)
Rare
1,666,200
Air orb
1,000 (noted)
Rare
1,340,000
Fire orb
1,000 (noted)
Rare
1,424,000
Vecna skull
1
Very rare
133,474
Water talisman
1
Uncommon
4,796
Earth talisman
25–35 (noted)
Uncommon
19,625–27,475
Fire talisman
25–35 (noted)
Uncommon
47,475–66,465
Chaos talisman
1
Uncommon
251
Nature talisman
1
Uncommon
255
Pure essence
500–15,000 (noted)
Uncommon
43,000–1,290,000
Nature rune
47–77
Rare
5,264–8,624
Soul rune
20
Rare
2,460
Death rune
50; 121
Rare
93
Blood rune
50
Rare
8,300
Raw swordfish
125 – 250; 1,000 (noted)
Uncommon
36,375–291
Raw shark
250–500 (noted)
Uncommon
245,500–491,000
Big bones
150 – 500 (noted)
Uncommon
66,150–220,500
Coal
150–7,500 (noted)
Uncommon
40,800–2,040,000
Adamantite ore
150–800 (noted)
Uncommon
218,850–1,167,200
Silver ore
100 (noted)
Rare
11,000
Adamant bar
1,000–7,000 (noted)
Rare
3,242,000–22,694,000
Runite ore
100 (noted)
Rare
1,046,100
Rune bar
1,50,150 (noted)
Rare
13,006–1,950,900
Clean ranarr
33 (noted)
Uncommon
73,359
Clean toadflax
25–250 (noted)
Uncommon
95,225–952,250
Clean snapdragon
30–120 (noted)
Uncommon
110,070–440,280
Clean torstol
10–100 (noted)
Uncommon
108,710–1,087,100
Saradomin brew (4)
250 (noted)
Very rare
156,000
Watermelon seed
3
Uncommon
5,889
Yew seed
1–50
Rare
67,826–3,391,300
Magic seed
1–6
Rare
164,198–985,188
Palm tree seed
10
Rare
1,156,740
Snapdragon seed
1
Rare
2,360
Torstol seed
1–31
Rare
70,221–2,176,851
Fellstalk seed
2
Rare
1,018
Yew logs
100–20,000 (noted)
Rare
54,500–10,900,000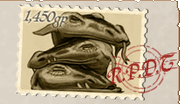 The King Black Dragon is a lower combat level than the regular black dragon.
There is currently a graphical glitch that does not allow the player to see the King Black Dragon's drop when it drops along the edge of the rock in the middle.
The King Black Dragon can talk, as seen in A Tail of Two Cats. During the final cutscene he is visited by Bob the Jagex Cat. During the chat between the King and Bob, R4ng3rNo0b889 attempts to solo the King, is unable to damage him, and is killed in one hit as he had no visible fire protection.
The King Black Dragon received a graphical update, along with more refined drops that a player would expect from a high level monster. Before the update, it dropped low-level runes and other various items like iron arrows.
Despite being a boss dragon, the King Black Dragon's dragonfire can still be blocked with Protection prayers, and the dragonfire is treated as a chromatic variant, which is most likely an oversight from Jagex.
Despite being a boss monster, for a while after the Evolution of Combat, the King Black Dragon could be tagged (a *). This was later fixed in an update.
Even if the player goes into the melee range of the King Black Dragon, the King will still do just as many dragonfire attacks on the player as if they were ranging him. This is unusual as most types of dragons tend to use melee more often than dragonfire when they attack a player in melee range.
Despite being able to poison players, the King Black Dragon can be poisoned. This may be an oversight from Jagex.
Flametongue, a King Black Dragon that fought during the God Wars, shows that the King Black Dragon may not be the only of his kind.
A while after the Queen Black Dragon was released, when you killed a King Black Dragon, the Adventurer's log said: "I killed a King Black Dragon, the biggest, meanest dragon around." After it's graphical update the adventurer's log was also changed to "I killed a King Black Dragon, which was once the biggest, meanest dragon around."
In a letter in the Postbag from the Hedge, the King Black Dragon makes references to "The Kin", possibly referring to the Dragonkin.
The King Black Dragon has a unique melee, dragonfire and death animation unlike the metallic and chromatic dragons.
It was revealed in the April 2011 BTS that the Kalphite Queen and the King Black Dragon were due to be married on 29 April 2011, to coincide with the wedding of Prince William of Wales and Miss Catherine Middleton in the United Kingdom. However this turned out to be a marketing ploy by Diango.
The examine text "The biggest, meanest dragon around" wasn't true after Queen Black Dragon was released, as the Queen Black Dragon is much, much bigger than the King Black Dragon. His examine was changed due to this, to 'Was the biggest, meanest dragon around.'
According to the Third dragonkin journal the King Black Dragon is a failed project of a Dragonkin to copy the Queen Black Dragon that had been created by Kerapac.
According to the Last Riders book, Hannibus rode the King Black Dragon.
According to the Last Riders Lore book, Hannibus and some of his fellow Dragonriders were brought to Gielinor by the Empty Lord (Zaros) and two of their last five riders worked with Zamorak to bring down Zaros. This then caused all of them to be hunted as both Zamorakians and Zarosians believed they had betrayed them.