Kelavan was a mage of the Red Order during the time of the first Wizards' Tower. He is seen during a flashback in Rune Memories. He is responsible for creating the concept behind teleportation.
After he and his order were blamed for the destruction of the first Wizards' Tower, he created the Sacred Tradition of the Staff of Fire to exact his revenge on Archmage Perien.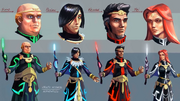 NPCs

First Wizards' Tower Wizards
Vortices

Items
Rewards

| | |
| --- | --- |
| First tower hat | |
| First tower robe top | |
| First tower robe bottom | |
| Title | |

Locations
Music
Miscellaneous
Former version
 Rune Mysteries (historical)
Ad blocker interference detected!
Wikia is a free-to-use site that makes money from advertising. We have a modified experience for viewers using ad blockers

Wikia is not accessible if you've made further modifications. Remove the custom ad blocker rule(s) and the page will load as expected.