Kalphite Soldier
Discuss

6
27,293pages on
this wiki
Kalphite Soldier
Release date
7 September 2004 (Update)
Members?
Yes
Combat level
65
XP per kill
227.7 (and 75.1 experience)
Always drops
Nothing
Examine text
I don't think insect repellent will work...
Slayer info
Slayer level
1
Slayer XP
78.8
Assigned by
Mazchna or Achtryn, Chaeldar, Sumona, Duradel or Lapalok, Kuradal

Combat info
LP
Max hit
4,700
188
Attack
Defence
Ranged
Magic
47
47
1
1
Immune to
Poison?
Stun?
Deflect?
No
No
No
Attack Speed

Speed 6 (Interval: 2.4 seconds)

Aggressive?
Poisonous?
Yes
Yes
Attack style
Weakness
Melee
Water spells
[view]
Kalphite Soldiers can be found in the Kalphite Hive west of Shantay Pass. They can also be purchased in the Construction skill to guard the Treasure Rooms of Player-owned houses (see Kalphite Soldier (POH)).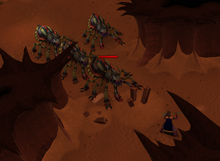 Kalphite soldiers attack only with melee, which has a slightly uncommon chance to cause poison on a successful hit. The poison is fairly weak, however, and wears off after a few hits. They are weak to Water spells.
They usually just drop gold but they make for decent Slayer experience if you are high enough level to kill them easily, so much so that many would argue that it is only second in Exp/Min to the Dagannoth Tasks. Players can also collect the potato cactus that is spawned in the area. Healing prayers and weapons are very helpful, as you will likely be able to heal as much as or more than the damage you receive from the Soldiers, especially due to the low chance of becoming poisoned, and the low intensity of the poison. These monsters are also commonly ranged with the aid of a dwarf multicannon. They can also be ranged or maged by staying in the safe spot behind the buried skeleton, giving you full range to attack and stay safe.
Armour/Weapons
Edit
Runes and Talismans
Edit
Rare drop table drops
Edit
Universal drops
Edit
Despite appearing to take up 3x3 squares, kalphite soldiers actually only cover a 2x3 area.