The Kalphite Nursery is a dungeon in the Kharidian Desert close to the Kalphite Hive where dung kalphites are found. Fairy ring BIQ, then run northwest.
This area is accessed during and after the Diamond in the Rough quest. After completion of the quest, players can slice open the dung balls that the kalphites push around to obtain Uraeus and Aten, along with other small rewards such as gems and low level herbs. Slicing open the dung balls requires a slashing or stabbing weapon; if players forget to bring one, there is a bronze scimitar in the nursery.
In addition, players with 80 Mining can also find an additional reward of 20,000 Mining experience, a scabaras mask and a was in a side room in this dungeon (to the east). Bonus experience and experience boosts apply to this reward.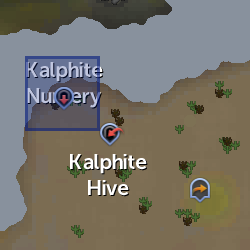 Asgarnia
Kandarin
Karamja
Kharidian Desert
Kalphite Nursery
Misthalin
Morytania
Fremennik Province
Feldip Hills
Wilderness
Troll Country & The North
Keldagrim
Tirannwn & Galarpos
Others
Ad blocker interference detected!
Wikia is a free-to-use site that makes money from advertising. We have a modified experience for viewers using ad blockers

Wikia is not accessible if you've made further modifications. Remove the custom ad blocker rule(s) and the page will load as expected.