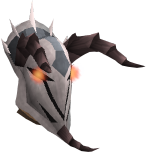 The K'ril's Godcrusher armour is an outfit available to purchase at Solomon's General Store. It costs 340 RuneCoins for free users and 306 RuneCoins for members. Like most cosmetic items from Solomon's General Store, the outfit has free colour change options and are not visible while in PvP areas. The set consists of:
K'ril's Godcrusher helm
K'ril's Godcrusher chest armour
K'ril's Godcrusher leg armour
K'ril's Godcrusher gauntlets
K'ril's Godcrusher boots
K'ril's Godcrusher winged cape
Legendary
Companions
Followers
Treats
Ad blocker interference detected!
Wikia is a free-to-use site that makes money from advertising. We have a modified experience for viewers using ad blockers

Wikia is not accessible if you've made further modifications. Remove the custom ad blocker rule(s) and the page will load as expected.