Jungle strykewyrm
Discuss

57
25,223pages
on this wiki
Jungle strykewyrm
Release date
8 February 2010 (Update)
Members?
Yes
Combat level
134
XP per kill
527.9 (and 174.2 experience)
Always drops
None
Examine text
Who said worms were small and harmless?
Slayer info
Slayer level
73
Slayer XP
176.6
Assigned by
Chaeldar, Sumona, Duradel or Lapalok, Kuradal

Combat info
LP
Max hit
6,000
268, 1,900+ (Special attack)
Attack
Defence
Ranged
Magic
67
67
67
67
Immune to Poison?
Immune to Stun?
Yes
No
Attack Speed

Speed 6 (Interval: 2.4 seconds)

Aggressive?
Poisonous?
No
Yes
Attack styles
Weakness
Melee
Magic

Stab

[view]
Jungle strykewyrms are Slayer monsters that are located north-east of Mobilising Armies, next to the three fishing spots along the western coast. They are some of the most visually striking creatures in RuneScape, and are accessible only at 73+ Slayer. They can only be attacked when you have been given them as a Slayer assignment. When asking for tips from your slayer master they will inform you that they will sense your "ill-intent" and will come to the surface themselves to fight you. This, however, is untrue. In the area containing the strykewyrms there are "mounds" moving across the jungle floor. You must go up to one and "Investigate" the mound in order to actually fight a strykewyrm. Your character will do an animation in which you stomp on the ground. Only once you have done this will the strykewyrm come to the surface to fight.
The quickest way to reach Jungle strykewyrms is by using a ring of duelling's Mobilising Armies teleport option, via the Oo'glog lodestone or using a Spirit Tree to get to Mobilising Armies.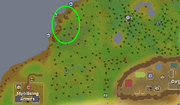 Jungle strykewyrms don't hit very high with their normal melee and magic-based attacks, but they have a special attack where they tunnel under your feet, then push you back from beneath. This attack hits for over 1500 damage (varies depending on your maximum life points). You can easily avoid this attack by running away as soon as it starts tunnelling.
It has 3 attack types:
A fairly weak and inaccurate melee attack which can hit diagonally.
A special attack when the wyrm buries itself into the ground and then bursts out with tremendous force, hitting 1,900 plus. This attack can be avoided by running away. (This attack can be prevented by standing with your back or side to an obstacle, such as rocks. This is highly recommended.)
A magic attack that looks like a large purple ball which explodes upon impact.
Jungle strykewyrms are poisonous, so bringing antipoison or super antipoison (or alternatively equipping an anti-poison totem or one of the various poison purge auras) is advised. Additionally, the Cure Me Lunar spell may be used at level 71 Magic along with 2 astral and cosmic runes to cure the poison.
Healing on site
Edit
There are lobster, tuna/swordfish, shark and big net fishing spots along the coastline, near the strykewyrms. Jungle vegetation can also be cut nearby. Since the Toolbelt update, the player has access to an unlimited food supply by utilising this. Alternatively to fire, a bunyip familiar and swallow whole scrolls make for a good healing strategy. The wyrms also drop a modest amount of food, which combined with Soul Split, Vampyrism aura or scrimshaws, or healing weapons and armour can be sufficient.
The Mobilising armies bank is also a very short run away, which is even more accessible with a ring of duelling.
Weaknesses
Edit
Jungle strykewyrms are weak against stab attacks. They are also immune to poison (as shown by Monster Examine), due to their poisonous nature.
Once the strykewyrms spawn to the surface, whether after a special attack or an inspection, the wyrm will not attack for a few seconds. This gives you the opportunity to attack it without retaliation. When asked for tips, Slayer Masters note that they are inherently passive creatures, who become aggressive upon sensing the slayer's own ill intent.
As with all strykewyrms, the Jungle strykewyrm will only perform its tunnelling attack if the 3x3 square area around the attacking player is free from obstructions. As the jungle area is littered with rocks and trees, players are likely to be able to move into a position where they can attack without fear of such a retaliation. If abilities are used properly, it is rare that they will have a chance to tunnel.
Since they attack with melee most of the time, melee armour is suggested for killing them. Using Attack and Strength potions can increase your stay times and make the tasks and kill go faster, eliminating extra damage that may occur from slower kills. There is no need to bring Super defence potions because they drop them quite frequently.
Runes/Talismans
Edit
NOTE: Almost all herbs are noted; there may be rare cases of unnoted herbs.
NOTE: Most seeds are dropped with nature runes, though there are cases of seeds without nature runes.
Armour and weapons
Edit
Rare drop table drops
Edit
Universal drops
Edit
Jungle strykewyrms, along with the rest of the strykewyrms, were the first monsters in RuneScape that made use of particle effects.
The release of strykewyrms was hinted at by the Chaos Elemental in the Postbag a few weeks earlier and by the Twitter Clue "Three strykes and they're out" which is a pun on the baseball term Three strikes and you're out!. The Twitter Clue was also posted on Facebook.
 Jungle Strykewyrm •
 Desert Strykewyrm •
 Ice Strykewyrm(Freezy pet) •
 WildyWyrm
Slayer Tower

 Crawling Hand •  Banshee •  Infernal Mage •  Bloodveld •  Aberrant spectre •  Gargoyle •  Nechryael •  Abyssal demon

Fremennik Slayer Dungeon

 Cave crawler •  Rockslug •  Cockatrice •  Pyrefiend •  Basilisk •  Jelly •  Turoth •  Kurask •  Aquanite

Lumbridge Swamp Caves
Poison Waste Slayer Dungeon
Pollnivneach Slayer Dungeon

 Banshee (Mighty) •  Cave crawler (Monstrous) •  Basilisk (boss) •  Turoth (Mightiest and Swarming turoth) •  Kurask (overlord) •  Aberrant spectre

Meiyerditch Dungeon
God Wars Dungeon

 Pyrefiend •  Bloodveld •  Spiritual ranger •  Spiritual warrior •  Spiritual mage

Jadinko Lair

 Mutated jadinko baby •  Mutated jadinko guard •  Mutated jadinko male

Polypore Dungeon

 Grifolaroo •  Grifolapine •  Ganodermic runt •  Ganodermic beast

Monastery of Ascension
Guthix's Cave
Daemonheim

 Crawling hand •  Cave crawler •  Cave slime •  Pyrefiend •  Night spider •  Jelly •  Spiritual guardian •  Seeker •  Nechryael •  Edimmu •  Soulgazer

Others

 Gelatinous Abomination •  Desert Lizard •  Mogre •  Harpie Bug Swarm •  Killerwatt •  Molanisk •  Terror dog •  Brine rat •  Fever spider •  Mutated zygomite •  Cave horror •  'Rum'-pumped crab •  Dust devil •  Skeletal Wyvern •  Jungle strykewyrm •  Desert strykewyrm •  Dark beast •  Ice strykewyrm •  Airut

Specials

Bork •  Skeletal horror •  Phoenix •  Jade vine(wild)

Slayer pets

| | |
| --- | --- |
| Soul Wars |  Creeping hand •  Minitrice •  Baby basilisk •  Baby kurask •  Abyssal minion •  TzRek-Jad |
| Social Slayer |  Squidge •  Freezy •  Runtstable |
| Other | |