Jungle Potion
Discuss

8
27,588pages on
this wiki
Jungle Potion is a short quest taking place on Karamja. It involves gathering a handful of different herbs for Trufitus Shakaya, in order for him to perform a ritual to communicate with the island's gods.
Official description
Edit
| | | |
| --- | --- | --- |
| " | Trufitus Shakaya of the Tai Bwo Wannai Village requires that you collect five special jungle herbs for a potion so he can commune with his Gods. | " |
Walkthrough
Edit
Start point
Speak to Trufitus near Tai Bwo Wannai
Member requirement
Members only
Official difficulty
Novice
Length
Short-Medium (Requires lots of walking)
Requirements

Quests:

3 Herblore (automatically gained on completion of Druidic Ritual)

Recommended

Items required
Items from the toolbelt are not listed unless they do not work or are not automatically added.

Enemies to defeat
None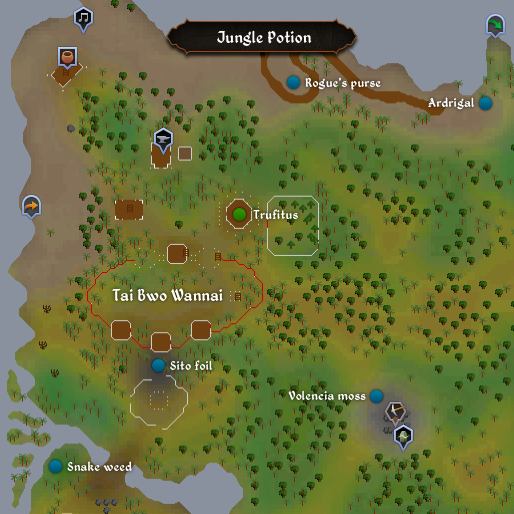 Communing
Edit
Talk to Trufitus Shakaya at the house which is northeast from the Tai Bwo Wannai Village (south-east of the Karamja lodestone). When you ask him about the absence of people in the village, he tells you that he is equally baffled. He, however, needs to talk to the gods regarding the matter and needs a potion to perform the ritual.
As he is old and frail, he asks you to gather the ingredients required to create the commune potion. The herbs he need are, in this order:
Snake weed
Ardrigal
Sito foil
Volencia moss
Rogue's purse
You will not be able to collect any of the ingredients before Trufitus has told you what needs to be collected. Therefore, you must go back to him after obtaining each herb.
Snake weed
Edit
BEWARE - The level 60 Tribesmen are poisonous, and aggressive to players under level 120. Try to avoid them, or bring antipoison.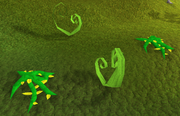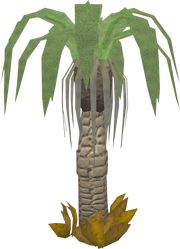 Sito foil
Edit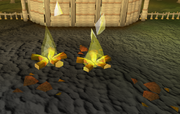 Volencia moss
Edit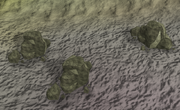 Rogue's purse
Edit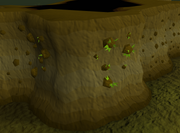 If you are under level 65, armour and food or protect-from-melee prayer is highly recommended for this part.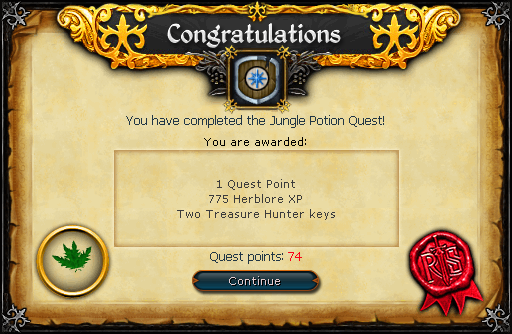 Music unlocked
Edit
Required for completing
Edit
Completion of Jungle Potion is required for the following:
Transcript
Edit
This article on a quest has an associated dialogue page.
Click here for a transcript of possible conversations encountered throughout the quest.
Cultural references
Edit