Juju cooking potion
Discuss

3
22,527pages
on this wiki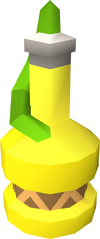 A Juju cooking potion is a reward from the Herblore Habitat activity. It requires 67 herblore to make and can be used on a baked potato to make a strange potato. Tuna and sweetcorn can then be added to make juju gumbo.
Making this potion grants 152 herblore experience and requires a clean shengo and plant teeth. A complete guide to obtain these items is here.
While there is a Drink option available for this potion, attempting to do so displays the message "You can't bring yourself to drink the vile liquid. It's more of a marinade."
This potion can be made into an Juju cooking flask by using at least six doses of it with a Potion flask. Players do not need a specific level to turn potions into flasks.
Unfinished potions

Coconut milk • Guam • Rogue's purse • Marrentill • Tarromin • Harralander • Ranarr • Toadflax • Spirit weed • Magic essence • Irit • Wergali • Avantoe • Kwuarm • Snapdragon • Cadantine • Lantadyme • Antipoison+ • Dwarf weed • Weapon poison+ • Torstol • Antipoison++ • Weapon poison++ • Fellstalk

Combat potions

Attack (mix) • Strength (mix) • Defence (mix) • Magic (mix) • Ranging (mix) • Combat (mix) • Super attack (mix) • Super strength (mix) • Magic essence (mix) • Super defence (mix) • Antifire (mix) • Super ranging (mix) • Super magic (mix) • Zamorak brew (mix) • Saradomin brew • Super antifire • Extreme attack • Extreme strength • Extreme defence • Extreme magic • Extreme ranging • Overload

Recovery potions

Stat restore (mix) • Energy (mix) • Summoning • Prayer (mix) • Super energy (mix) • Super restore (mix) • Sanfew serum • Adrenaline potion • Super prayer • Prayer renewal

Cures and antipoisons

Relicym's balm (mix) • Antipoison (mix) • Super antipoison (mix) • Yeti curse cure • Sanfew serum • Antipoison+ (mix) • Antipoison++

Skill potions

Agility (mix) • Fishing (mix) • Hunter (mix) • Fletching • Crafting

Unfinished Juju potions
Juju potions

Juju hunter potion • Scentless potion • Juju farming potion • Juju cooking potion • Juju fishing potion • Juju woodcutting potion • Juju mining potion • Saradomin's blessing • Guthix's gift • Zamorak's favour

Weapon poisons
Others

Bravery potion • Cadava potion • Goblin potion • Guthix balance (unf) • Guthix balance • Guthix rest • Potion • Mixture - step 1 • Mixture - step 2 • Shrink-me-quick • Super fishing explosive • Troll potion • 'voice of doom' potion • Olive oil • Sacred oil • Serum 207 • Serum 208 • Yeti curse cure

Tars

Guam • Marrentill • Tarromin • Harralander

Flasks

Agility • Antifire • Antipoison • Antipoison+ • Antipoison++ • Attack • Crafting • Defence • Energy • Extreme attack • Extreme defence • Extreme magic • Extreme ranging • Extreme strength • Fishing • Fletching • Guthix's gift • Guthix balance • Hunter • Juju cooking • Juju farming • Juju fishing • Juju hunter • Juju mining • Juju woodcutting • Magic essence • Magic • Overload • Prayer • Prayer renewal • Ranging • Recover special • Relicym's balm • Restore • Sanfew serum • Saradomin's blessing • Saradomin brew • Scentless potion • Serum 207 • Serum 208 • Summoning • Super antifire • Super antipoison • Super attack • Super defence • Super energy • Super magic • Super prayer • Super ranging • Super restore • Super strength • Weapon poison • Weapon poison+ • Weapon poison++ • Zamorak's favour • Zamorak brew

Dungeoneering potions

| | |
| --- | --- |
| Weak potions | Magic • Ranged • Melee • Defence • Stat restore • Cure • Rejuvenation • Weapon poison • Gatherer's • Artisan's • Naturalist's • Survivalist's |
| Normal potions | Magic • Ranged • Melee • Defence • Stat restore • Cure • Rejuvenation • Weapon poison • Gatherer's • Artisan's • Naturalist's • Survivalist's |
| Strong potions | Magic • Ranged • Melee • Defence • Stat restore • Cure • Rejuvenation • Weapon poison • Gatherer's • Artisan's • Naturalist's • Survivalist's |
Jadinko creatures

Common • Igneous • Cannibal • Aquatic • Amphibious • Carrion • Draconic • Saradomin • Guthix • Zamorak • Shadow • Diseased • Camouflaged

Seeds

Red blossom • Blue blossom • Green blossom • Erzille • Argway • Ugune • Shengo • Samaden • Lergberry • Kalferberry

Produce

Red vine blossom • Blue vine blossom • Green vine blossom • Erzille • Argway • Ugune • Shengo • Samaden • Lergberries • Kalferberries

Unfinished Juju potions
Juju potions

Hunter potion • Scentless potion • Farming potion • Cooking potion • Fishing potion • Woodcutting potion • Mining potion • Saradomin's blessing • Guthix's gift • Zamorak's favour

Juju secondaries

Corrupt vine • Shadow vine • Marble vine • Striped vine • Plant teeth • Aquatic vine • Pungent vine • Oily vine • Draconic vine • Saradomin vine • Guthix vine • Zamorak vine

Rewards