Jones is an old fisherman in the Fishing Guild near Hemenster who hunts the Thalassus - a monster from the Wushanko Isles. He starts the Deadliest Catch quest. To start the quest, talk to Jones near the Fishing Guild bank.
Deadliest Catch
Edit
The character is met during the Deadliest Catch quest, in which he asks the player to join him in his attempt to catch Thalassus. For this attempt he needs a Giant harpoon, a Sea chart and 'The Guns' to row the boat. When they find Thalassus, Jones gets swallowed by it. Later, 'The Guns' throws a Karambwan to Thalassus to make him spit Jones out again along with one of the beast's teeth. Back at the shore Jones sends the player to bring the tooth to Linza, after which he completes the quest.
Extra Rewards
Edit
Following the quest, players can hunt the Thalassus up to ten more times for a total of 46,660 additional Hunter experience. Doing so is a requirement for obtaining the Completionist cape.
The character's name is a reference to Jonah from the bible. Both had incidents with a sea creature, Jones with the Thalassus and Jonah with a "big fish."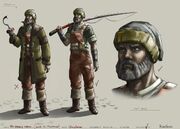 Ad blocker interference detected!
Wikia is a free-to-use site that makes money from advertising. We have a modified experience for viewers using ad blockers

Wikia is not accessible if you've made further modifications. Remove the custom ad blocker rule(s) and the page will load as expected.