Jessika Silverline is a researcher from Wizards' Tower, and plays a role in all the quests in the Void Knights quest series. In Quiet Before the Swarm she is revealed to have come to the Void Knights' Outpost to study the void pests for 'Professor Melville', and she smuggled one pest off the island and to Port Sarim. She is then kept under arrest in the outpost, after being tangentially involved with the death of Commodore Matthias, Knight Ami, Knight Diana and Knight Mikhal, and kept there until A Void Dance.
In A Void Dance, she, along with Commander Korasi, is sent with the player to investigate and find the escaped pest, which turns out to be a Void leech. Korasi holds a grudge against her but eventually they make friends, and, at the end of the quest, Jessika is offered a chance to join the Void Knights.
Jessika seems to have a very slanted view of the pests, and believes them to be intelligent, kind-hearted creatures who are controlled by a "Hive-mind" which orders them to attack Gielinor. This view is probably true, however, since the dialogue with the Void leech at the end of A Void Dance seems to confirm it. After The Void Stares Back, Valluta refers to the Pest Queen as the "slave-driver of pests", further confirming this view and indicating that the Pest Queen is the hive-mind; although the player kills a pest queen during the quest, Valluta mentions that a new one will hatch afterwards.
In The Void Stares Back, Jessika is one of the NPCs that accompany the player once the player has unlocked the Black Knights' security rooms. It turns out that 'Professor Melville' had deceived her and others and was actually Wizard Grayzag, who is planning to summon the Pest queen and wreak havoc with her. The player is forced to choose whether Jessika or Korasi will be saved. Whichever one the player chooses to save will explode the foodgoo in order to close the Void Portal, while the other will die immediately at the hands of Grayzag. After the quest Commandant Tyr mentions that she is now battling against the void with the void knights.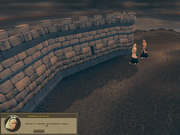 Jessika also features in Nomad's Elegy, depending on the player's choice in the Void Stares Back. If the player choose to let her die, then she is one of the four adventurers aiding Death, Icthlarin, and the player. However, if the player choose to let her live and let Korasi die, then she is a memory of Korasi's encountered in Limbo.
Ad blocker interference detected!
Wikia is a free-to-use site that makes money from advertising. We have a modified experience for viewers using ad blockers

Wikia is not accessible if you've made further modifications. Remove the custom ad blocker rule(s) and the page will load as expected.