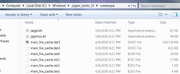 The Jagex cache, also known as the RuneScape cache, is a bundle of files downloaded onto a player's computer the first time they load RuneScape. On all Windows versions it is typically located at %UserProfile%\jagexcache\runescape\LIVE and C:\.jagex_cache_32, or on Linux systems, at /home/user/jagexcache/runescape. It contains models, textures, and maps used in the current client version as well as models and textures for unreleased quests, items, and areas in a compressed form, and native libraries mainly for graphics rendering (OpenGL, DirectX and software modes) and other functions that are not available in pure Java. Its purpose is to allow players to quickly load and play RuneScape. Every time RuneScape is updated, the cache on a player's computer is updated as well to reflect the changes. A full Jagex cache is 9,58 Go. Player using the NXT client have a different cache than Java client user, the default emplacement of NXT cache is C:\ProgramData\Jagex\RuneScape\launcher<code>
If you ever to share your Java or NXT cache with someone for whenever reason,never share the Preference.dat or Preference.cfg as it contain your last used login email and can be used to bybass authentificator.
Unknown models
Edit
New unreleased and work in progress models and textures commonly show up in the cache every new game client version. Using third party software players can view the cache in its entirety. There is no way to tell whether a model or texture is planned for a future update, is a work in progress, or is discontinued and will never be released. In spite of this, many players use third-party software to view the models in the cache and speculate on future updates.
Game rules
Edit
Jagex states in their terms and conditions that You must not reverse-engineer, decompile or modify any Jagex Product client software in any way. [1] Because of this, and with reference to Section 1201 (a) of US Copyright law,[2] the legality of using such third-party software in the United States is disputed.
Jagex has also publicly stated that tampering with the game code can see "accounts banned from the game," however they do not state how they are able to discover if a player has viewed the cache or if viewing the cache counts as tampering with game code. Posts made on the official forum regarding the cache are hidden and locked because of outstanding rules on account security and third party software.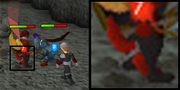 A different version of the Dragon pickaxe was found in the cache years before its release. When the Dragon pickaxe was released, the Game Guide entry about its special attack showed this same pickaxe model instead of the real model.
References
Edit
Ad blocker interference detected!
Wikia is a free-to-use site that makes money from advertising. We have a modified experience for viewers using ad blockers

Wikia is not accessible if you've made further modifications. Remove the custom ad blocker rule(s) and the page will load as expected.