Jadinko guards are fully grown male jadinkos. They are revealed by Dotmatrix as males and as too weak genetically to fertilise eggs laid by the Jadinko Queen, but instead guard the queen and her babies. On occasion, a mutated jadinko baby hatches from the Queen's eggs, and the jadinko guard will attack it, hitting a 1270 and killing it in one hit.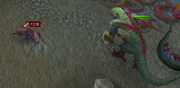 Ad blocker interference detected!
Wikia is a free-to-use site that makes money from advertising. We have a modified experience for viewers using ad blockers

Wikia is not accessible if you've made further modifications. Remove the custom ad blocker rule(s) and the page will load as expected.