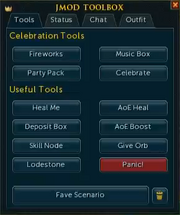 The JMod Toolbox is an interface available only to Jagex Moderators.[1] It has four tabs: Tools, Status, Chat and Outfit.
On "Tools" tab the following "Celebration Tools" can be used:
Fireworks
Party Pack
Music Box
Celebrate
"Tools" tab also features the following "Useful Tools":
Heal Me
Deposit Box
Lodestone
AoE Heal
AoE Boost
Give Orb
Panic! (teleports the Jagex Moderator on top of the Dark Wizards' Tower and cures any status effects)
On "Status" tab the following transmogrifications can be selected:
250m
Bilrach
Bosses

Araxxor
Araxxi
Corporeal Beast
Giant Mole
King Black Dragon
Kalphite King
Queen Black Dragon
Vorago
WildyWyrm

Bosses (GWD)

Nex
K'ril
General Graardor
Commander Zilyana
Kree'arra
Gregorovic
Nymora
Vindicta
Helwyr

Bosses (Other)

Jad (turns the JMod into TokHaar-Jad)
Legio Primus
Legio Secundus
Legio Tertius
Legio Quartus
Legio Quintus
Legio Sextus
Beastmaster Durzag
Yakamaru (Sick)

Burning Xmas Tree
Cauldron
Crawling Hand
Deposit Box
Dragonkin
Drakonkin Bobblehead
Evil Reindeer
Fun

Chaos Elemental
Dwarf
Evil Bob
Nomad
Sliske
Sq'irks the parrot
Tumbleweed
Wise Old Man
Zemouregal

Ghost
Goebie
Good Reindeer
Invisible
Items

Black Party Hat
Black Santa Hat
Cake
Cash Stack
Cup of Tea
Meat Pizza

Kelp
Loot Pinata
Lootbeam
Maggie
Mega Ducklings
None
Normal Monkey
Ozan Follower
Pack Yak
Penguin
Penguin Spy
Pumpkin
Rainbow Lootbeam
Rory Reindeer (Adult)
Rory Reindeer (Baby)
Rory Reindeer (Juvi)
Signature NPC (only one of the groups is available at a time, determined by items in backpack)

(Group 1)
(Group 2)

Merethiel with staff
Merethiel
Solak
Solak sitting
AoD
My girl wendy!
Effy
Cruor
Glacies

(Group 3)

Snow ranger
Squirrel
Timbo's Tree
Vyrewatch
Vyrewatch (Flying)
Wizard Chambers
Xmas Tree
"Status" tab also features the following "Status Toggles":
Invis
Keep Max HP
Invulnerable
Keep Max Prayer
The JMod can use the "Chat" tab to quickly output either one of the two available customizable chat lines or any of the following lines.
You'll need to contact Player Support for ...
You can contact our support team via th...
That seems like a bug - can you submit a ...
Sorry, JMods can't do that!
Sounds like a cool idea, put it on RuneLa...
Please report any bots you see so our te...
Don't forget to follow @RuneScape on T...
Great to hear your feedback. I'll be sure t...
You can't apply to be a P-Mod - if chosen ...
We select players who are friendly, helpf...
Head to the Events & Competitions foru...
You can submit a bug report by clicking o...
Please stop spamming.
The "Outfit" tab allows the JMod to quickly switch their worn equipment to one of the following.
Melee Outfits
Edit
Melee DPS
Melee Tank
Melee Tier 1
Melee Tier 10
Melee Tier 20
Melee Tier 30
Melee Tier 40
Melee Tier 50
Melee Tier 60
Melee Tier 70
Melee Tier 80
Melee Tier 90
Magic Outfits
Edit
Magic DPS
Magic Tank
Magic Tier 1
Magic Tier 10
Magic Tier 20
Magic Tier 30
Magic Tier 40
Magic Tier 50
Magic Tier 60
Magic Tier 70
Magic Tier 80
Magic Tier 90
Mystic (Blue)
Mystic (Red)
Ranged Outfits
Edit
Ranged DPS
Ranged Tank
Ranged Tier 1
Ranged Tier 10
Ranged Tier 20
Ranged Tier 30
Ranged Tier 40
Ranged Tier 50
Ranged Tier 60
Ranged Tier 70
Ranged Tier 80
Ranged Tier 90
Hybrid Outfits
Edit
Battlemage
Trickster
Vanguard
Fun Outfits
Edit
Other Outfits
Edit
References
Edit