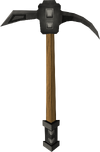 The iron pickaxe is a pickaxe stronger than the bronze pickaxe, requiring 10 Attack to wield and 1 Mining to use in extracting ores from rocks. Members can make an iron pickaxe with the Smithing skill at level 20 by using 2 iron bars on an anvil after the completion of the quest Perils of Ice Mountain. Players can purchase this pickaxe from Nurmof's Pickaxe Shop in the Dwarven Mine.
One spawns on the beach of Rellekka, amongst the rock crabs and hobgoblins.
The iron pickaxe can be gilded by the Liquid Gold Nymph after receiving the full golden mining suit, creating the gilded iron pickaxe. It is cosmetic and gives no more bonuses than the regular pickaxe.
As of 17 June 2013, this pickaxe can be stored on a toolbelt.
Combat Stats

A player wielding an iron pickaxe.

Skill requirements
10
Class
Slot
Melee
Weapons
Main
Off
Damage
74
-
Accuracy
202
-
Style
Crush
Attributes
Armour
0
Life points
0
Prayer
0
Strength bonuses

0

0

0

Attack speed
Average

Interval: 3.6 seconds

[view] • [talk]
Dropping monsters
Edit
General
Fishing
Crafting
Farming
Slayer