Iron armour set (sk)
Discuss

0
22,527pages
on this wiki

The Iron armour set (sk) is an armour set requiring level 10 defence to equip and is from the Grand Exchange. It can only be made into a set by exchanging it with the Grand Exchange clerks.The iron armour pieces can be made with a Smithing level of 33 (in order to make all four pieces). It contains an Iron platebody, Iron plateskirt, Iron full helmet, and an Iron Kiteshield, unlike the Iron armour set (lg), which contains an Iron full helmet, Iron platebody, Iron kiteshield, and Iron platelegs.
Sets are commonly used to reduce the amount of bank space taken up, which is especially useful for F2Pers. The skirt is used in p2p and f2p pking more often than the legs, as it weighs 1 kg less.
The pieces, when all of them are equipped, provide the following bonuses.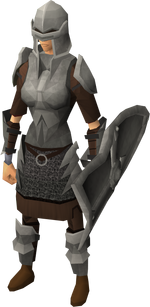 Iron Armour Grand Exchange Cost 
Iron full helm
 

34

[view] 
Iron platebody
 

340

[view] 
Iron plateskirt
 

56

[view] 
Iron kiteshield
 

41

[view]
Total
 

471

coins
[view]
•
[talk]
Components and Bonuses
Edit
Standard

Melee

| | |
| --- | --- |
| Plateleg sets | Bronze • Iron • Steel • Black • Mithril • Adamant • Rune • Dragon chain • Dragon plate |
| Plateskirt sets | Bronze • Iron • Steel • Black • Mithril • Adamant • Rune • Dragon chain • Dragon plate |

Ranged

Green d'hide • Blue d'hide • Red d'hide • Black d'hide • Royal d'hide

Magic

Treasure Trails

Melee

| | |
| --- | --- |
| Plateleg sets | Black (t) • Black (g) • Adamant (t) • Adamant (g) • Rune (t) • Rune (g) • Guthix • Saradomin • Zamorak • Bandos • Ancient • Armadyl • Gilded • Third age • Rune (h1) • Rune (h2) • Rune (h3) • Rune (h4) • Rune (h5) • Adamant (h1) • Adamant (h2) • Adamant (h3) • Adamant (h4) • Adamant (h5) • Black (h1) • Black (h2) • Black (h3) • Black (h4) • Black (h5) |
| Plateskirt sets | Black (t) • Black (g) • Adamant (t) • Adamant (g) • Rune (t) • Rune (g) • Guthix • Saradomin • Zamorak • Bandos • Ancient • Armadyl • Gilded • Rune (h1) • Rune (h2) • Rune (h3) • Rune (h4) • Rune (h5) • Adamant (h1) • Adamant (h2) • Adamant (h3) • Adamant (h4) • Adamant (h5) • Black (h1) • Black (h2) • Black (h3) • Black (h4) • Black (h5) |

Ranged

Leather (t) • Leather (g) • Green d'hide (t) • Green d'hide (g) • Blue d'hide (t) • Blue d'hide (g) • Guthix • Saradomin • Zamorak • Bandos • Ancient • Armadyl • Third age

Magic
Prayer

Third age

Barrows

Ahrim's • Dharok's • Guthan's • Karil's • Torag's • Verac's • Akrisae's

Others

Initiate m • Initiate f • Proselyte m • Proselyte f • Rock-shell • Skeletal • Spined • Elite black • Dagon'hai • Splitbark • Infinity • Cannon