Iron dragon
Release date
17 January 2005 (Update)
Members
Yes
Combat level
98
XP per kill
661 (and 218.1 experience)
Always drops
Dragon bones, 5 iron bars
Examine text
Its scales seem to be made of iron.
Slayer info
Slayer level
1
Slayer XP
245
Assigned by
Sumona, Duradel or Lapalok, Kuradal, Morvran

Combat info
LP
Max hit
7,500
Melee - 488
Dragonfire - 2,500+
Attack
Defence
Ranged
Magic
70
70
1
1
Immune to
Poison
Stun
Deflect
No
No
No
Attack speed

Speed 6 (Interval: 2.4 seconds)

Aggressive
Poisonous
No
No
Attack styles
Weaknesses
Melee
Dragonfire
Water spells
Bane
[view]
Iron dragons are metal dragons. As with all adult dragons, iron dragons have the ability to breathe fire. Thus, protection such as an anti-dragon shield, dragonfire shield or super antifire potion is essential. The combination of praying against magic and an antifire potion does not work against metal dragons. They can be found deep in the Brimhaven Dungeon, outside the fortress of Ghorrock just out of the Wilderness, and in Kuradal's Dungeon. As with all metal dragons except for the bronze dragon, they have a chance of dropping the famous draconic visage, which is one of the main reasons that metal dragons are hunted. They can be placed in a dungeon pit with level 97 construction after the completion of the Love Story quest, costing 7,500,000 coins. However, the pit iron dragon would be level 112, not 98.
Iron dragons commonly drop adamant items and can also occasionally drop rune items. They are also a viable source of green charms.
Locations
Edit
Brimhaven Dungeon
Edit
Brimhaven Dungeon is a very good location due to the largest amount of iron dragons available in one area in the game. There is an entrance fee of 875 coins to gain entrance into this dungeon (free if completed the hard Karamja Tasks). A one-click teleport is recommended in case of dire need.
Since the update of Lodestones, the Karamja Lodestone teleports you within steps of the Brimhaven Dungeon.
If a player has 80 Dungeoneering, they can use the resource dungeon to kill them as well.
Brimhaven Resource Dungeon
Edit
Set within the Brimhaven Dungeon, the Brimhaven Resource Dungeon requires a Dungeoneering level of 80 to access. Despite this high requirement, it is a very good place to hunt and slay metal dragons. The dungeon is separated into two halves; one with iron dragons, one with steel dragons. There's a hammer and a few anvils to smith the bars you obtain from killing the dragons into stackable items, assuming the player has the Smithing level to do so. Players may be interested in smithing the iron bar drops into high demand low level ranged ammo, such as iron knives, to be later used or sold. If you're making items from the bars and get attacked by an iron dragon, you can use the anvil to block it off until you are done. If you die you might lose your items, unless you have someone with a high enough dungeoneering level to go with you, so they can bless your grave. You can also go on a popular world for killing them (w27 is a good example), in hopes that someone will bless your grave in case you die. A cannon can be used here, though if placed in the wrong spot, you can end up attacking a Steel dragon by accident.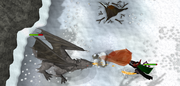 Ghorrock is great for those that have compeleted the required quest, more so for a player who has 89 Magic and is on the Lunar spellbook or has 96 Magic and is on the Ancient Magicks spellbook. If a player meets these requirements, this spot becomes an excellent place to kill iron dragons as the Ice Plateau Teleport and Ghorrock Teleport take the player very close to the fortress. This is very helpful, especially if the player is planning on banking all the bones without a pack yak.
What makes this spot attractive to some players without access to Kuradal's dungeon is that the iron and steel dragons are separated, precluding the possibility of a player being attacked by the other undesired type of dragon. With 43 prayer and prayer potions (if meleeing), a dragonfire or anti-dragon shield and a couple of antifire potions or super antifire potions, a player can attack them and take minimal damage. Once a player's prayer points have been depleted, they may either drink a dose of prayer potion or run south to find an altar and recharge their prayer points there. When a player is out of antifires, he/she may either run to the Mage Arena or teleport out. If banking in the Mage Arena, be sure to have extra food in case of player killer attacks. However, it is recommended to teleport out to avoid this risk.
A Dwarf Cannon can be set up here to help kill dragons faster. This may be an attractive option if the player wants to pay less attention to RuneScape and continue killing with auto-retaliate toggled on, as the cannon would attack dragons for the player. This is, however, hindered by the limit of 30 cannonballs being used as ammunition in a cannon at any given time.
Contrary to popular belief this area is not in the wilderness; the fortress itself is completely safe from player killers (although running through the wilderness from the mage arena may expose a player prior to entering the fortress).
The fortress can safely be entered from the west, the same valley that houses the entrance to the Mahjarrat Ritual Site Cavern, making this location more attractive.
Kuradal's Dungeon
Edit
Kuradal's Dungeon may only be accessed if Kuradal or Morvran assigns a player iron dragons as a slayer task. This is an excellent location as it is generally less busy than the Brimhaven Dungeon, and it is slightly less risky to reach than Ghorrock. The iron dragons here may drop the ferocious ring, a bonus drop only available in this dungeon. The ring increases all damage by 4%, provides ring of life functions (teleports to Kuradal at less than 10% life points), and has teleports to Kuradal; it is recommended to wear this ring if received as a drop. The recommended inventory here is the same as the other locations (dragonfire/anti-dragon shield with antifire potions or super antifires; prayer potions for meleers).
100% drop
Edit
Charm drop numbers
No charm
40%
12%
32–33%
13%
3%
Represents a 90% confidence range.
Based on a sample of 38,174 kills.
2 charms are dropped at a time.
Add data to the log
(Requires JavaScript to be enabled)
Ammunition
Edit
Rare drop table drops
Edit
This monster has access to the rare drop table.
The ring of wealth is not required to access the table.
Show/hide rare drop table
Item
Quantity
Rarity
GE market price
Coins
250–500; 3,000
Common
Not sold
Uncut sapphire
1
Common
880
Uncut emerald
1
Common
1,535
Uncut ruby
1
Common
2,476
Uncut diamond
1
Common
4,305
Uncut diamond
45–55 (noted)
Rare
193,725–236,775
Loop half of a key
1
Uncommon
18,179
Tooth half of a key
1
Uncommon
37,670
Uncut dragonstone
1
Uncommon
13,242
Uncut dragonstone
45–55 (noted)
Rare
595,890–728,310
Dragon longsword
1
Common
57,679
Dragon spear
1
Uncommon
35,122
Battlestaff
180–220 (noted)
Uncommon
1,297,080–1,585,320
Rune javelin
5
Rare
905
Rune platebody
1
Uncommon
37,852
Rune platebody
15–25 (noted)
Rare
567,780–946,300
Shield left half
1
Uncommon
64,431
Dragon helm
1
Uncommon
58,954
Rune arrowheads
113–137
Common
23,504–28,496
Onyx bolts
135–165
Rare
1,123,605–1,373,295
Vecna skull
1
Uncommon
40,006
Chaos talisman
1
Uncommon
866
Nature talisman
1
Uncommon
515
Water talisman
65–82 (noted)
Rare
819,065–1,033,282
Earth talisman
65–82 (noted)
Rare
238,810–301,268
Fire talisman
25–35 (noted)
Rare
81,350–113,890
Raw lobster
135–165 (noted)
Uncommon
26,325–32,175
Raw shark
225–275 (noted)
Uncommon
205,650–251,350
Big bones
79–90 (noted)
Uncommon
28,835–32,850
Dragon bones
180–220 (noted)
Uncommon
351,360–429,440
Coal
200–1,100 (noted)
Uncommon
72,600–399,300
Gold ore
90–110 (noted)
Common
13,590–16,610
Adamantite ore
180–220 (noted)
Uncommon
237,420–290,180
Adamant bar
15 (noted)
Common
46,005
Adamant bar
135–165 (noted)
Rare
414,045–506,055
Runite ore
90–110 (noted)
Rare
913,050–1,115,950
Rune bar
3 (noted)
Common
42,108
Rune bar
45–55 (noted)
Rare
631,620–771,980
Grimy torstol
90–110 (noted)
Uncommon
515,160–629,640
Grimy snapdragon
90–110 (noted)
Uncommon
378,990–463,210
Super restore (4)
45–55 (noted)
Uncommon
174,915–213,785
Prayer potion (4)
45–55 (noted)
Uncommon
122,850–150,150
Lantadyme seed
14–16
Uncommon
98,938–113,072
Dwarf weed seed
14–16
Uncommon
122,024–139,456
Magic seed
4
Uncommon
395,968
Palm tree seed
10
Rare
1,509,880
Flax
450–550 (noted)
Common
11,700–14,300
Molten glass
45–55 (noted)
Common
6,660–8,140
Soft clay
450–550 (noted)
Uncommon
82,800–101,200
Yew logs
68–82
Uncommon
14,892–17,958
Yew logs
675–825 (noted)
Rare
147,825–180,675
Teak plank
45–55 (noted)
Uncommon
31,815–38,885
Mahogany plank
270–330 (noted)
Rare
608,580–743,820
Brawling gloves (Melee)
1
Rare
Not sold
Brawling gloves (Magic)
1
Rare
Not sold
Brawling gloves (Ranged)
1
Rare
Not sold
Brawling gloves (Agility)
1
Rare
Not sold
Brawling gloves (Cooking)
1
Rare
Not sold
Brawling gloves (FM)
1
Rare
Not sold
Brawling gloves (Fishing)
1
Rare
Not sold
Brawling gloves (Hunter)
1
Rare
Not sold
Brawling gloves (Mining)
1
Rare
Not sold
Brawling gloves (Prayer)
1
Rare
Not sold
Brawling gloves (Smithing)
1
Rare
Not sold
Brawling gloves (Thieving)
1
Rare
Not sold
Brawling gloves (WC)
1
Rare
Not sold
Crystal triskelion fragment 1
1
Very rare
Not sold
Crystal triskelion fragment 2
1
Very rare
Not sold
Crystal triskelion fragment 3
1
Very rare
Not sold
Universal drops
Edit
Universal drops are dropped by nearly every monster outside of Daemonheim.
These drops are dropped alongside main drops.
| | Item | Quantity | Rarity | GE market price |
| --- | --- | --- | --- | --- |
| | Key token | 1 | Rare | Not sold |
Chromatic dragons
Metal dragons
Other
 Celestial dragon
 Fairy dragon
 Wyrms
Individuals
 Queen Black Dragon
 Elvarg
 Mr. Mordaut
 Therragorn
 K'klik
 Mod Sarah
Pets
 Baby dragon •  Frosty •  King Black Dragonling •  Queen Black Dragonling
Dragonkin