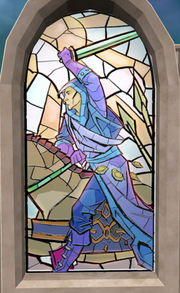 Iriandul Caistlyn was one of the seven priestly warriors who died fighting the Morytanian hordes at Silvarea.
From the Ancient tome: 'A true leader of the holy seven, though rarely ever a footfall in front of Ivandis, who was ever eager to smash the evil and force the tide back into Morytania.'
Ad blocker interference detected!
Wikia is a free-to-use site that makes money from advertising. We have a modified experience for viewers using ad blockers

Wikia is not accessible if you've made further modifications. Remove the custom ad blocker rule(s) and the page will load as expected.