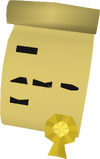 The invitation letter is a quest item used in The Dig Site. It is used to get access to the winches. It is obtained from the archaeological expert after the player has brought him the Ancient talisman.
It says 'I give permission for the bearer... to use the mine shafts on site. - signed Terrance Balando, Archaeological Expert, City of Varrock.'
Disassembly
Edit
Ad blocker interference detected!
Wikia is a free-to-use site that makes money from advertising. We have a modified experience for viewers using ad blockers

Wikia is not accessible if you've made further modifications. Remove the custom ad blocker rule(s) and the page will load as expected.