Infernal Mage
Release date
26 January 2005 (Update)
Members
Yes
Combat level
72
XP per kill
267.1 (and 88.1 experience)
Always drops
Bones
Examine text
An evil magic user.
Slayer info
Slayer level
45
Slayer XP
91 (18.5 on contract; 110.9 on special contract)
Assigned by
Chaeldar, Vannaka

Combat info
LP
Max hit
5,000
220
Attack
Defence
Ranged
Magic
1
52
1
52
Immune to
Poison
Stun
Deflect
No
No
No
Attack speed

Speed 6 (Interval: 2.4 seconds)

Aggressive
Poisonous
No
No
Attack style
Weakness
Magic
Arrows
[view]
Infernal Mage
Release date
26 January 2005 (Update)
Members
Yes
Combat level
72
XP per kill
274.5 (and 90.5 experience)
Always drops
Bones
Examine text
An evil magic user.
Slayer info
Slayer level
45
Slayer XP
91 (18.5 on contract; 110.9 on special contract)
Assigned by
Chaeldar, Vannaka

Combat info
LP
Max hit
5,200
220
Attack
Defence
Ranged
Magic
1
52
1
52
Immune to
Poison
Stun
Deflect
No
No
No
Attack speed

Speed 6 (Interval: 2.4 seconds)

Aggressive
Poisonous
No
No
Attack style
Weakness
Magic
Arrows
[view]
RuneScape uses the British convention for floor numbering: Ground floor, first floor, second floor, etc.

Infernal Mages are Slayer monsters that require level 45 Slayer to kill. They are sometimes killed for their common Death rune drops; otherwise, these monsters are usually neglected, even with their frequent gold charm drops, as most monsters have better charms rates.
Infernal mages are a good source of death runes, and are the only monster that drops dark mystic hats and boots. 
Strengths and weaknesses
Edit
Infernal Mages use a weaker version of the spell Fire Blast to attack the player, so wearing dragonhide or mage armour will reduce the damage taken. Also wearing Void Knight equipment is a good option since it has high magic defence. This attack hits a maximum of 220 life points, but hits extremely often. Protect from Magic is recommended. Bones to Peaches is recommended, too, as the bones they drop can be converted to food. They are weak to arrows, so it is advisable to bring the best bow available.
If a player stops fighting and lets a familiar attack the infernal mage, the mage will attack back with melee, no matter how far the familiar is from the mage. You cannot use a Dwarf multicannon on any infernal mages due to the fact that they are only found in the Chaos Tunnels and the Slayer Tower, and neither of them allow the use of cannons.
Locations
Edit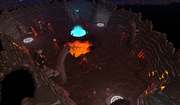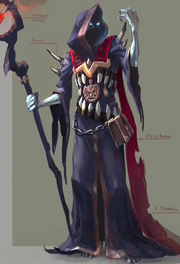 100% drop
Edit
| | Item | Quantity | Rarity | GE market price |
| --- | --- | --- | --- | --- |
| | Bones | 1 | Always | 211 |
Charm drop numbers
No charm
61–62%
32–33%
3%
2–3%
0.6–0.7%
Represents a 90% confidence range.
Based on a sample of 54,523 kills.
1 charm is dropped at a time.
Please add to the log.
(Only if 50 or more creatures are killed)
Weapons and armour
Edit
Universal drops
Edit
Universal drops are dropped by nearly every monster outside of Daemonheim.
These drops are dropped alongside main drops.
| | Item | Quantity | Rarity | GE market price |
| --- | --- | --- | --- | --- |
| | Key token | 1 | Rare | Not sold |