Incandescent energy
Release
20 August 2013 (Update)
Members
Yes
Quest item
No
Tradeable
Yes
Equipable
No
Stackable
Yes
Disassembly
No
Value
61 coins
Cash out:
36 coins
Alchemy
Not alchemisable
Destroy
Drop
On death
Reclaimable
Reclaim: 37
Sacrifice: 148
Exchange

251

coins (info)
Buy limit
25,000
Weight
0 kg
Examine
A chunk of tier 12 harvested divine energy. It can be manipulated to create or transmute objects.
[FAQ] • [doc]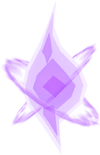 Incandescent energy is a type of divine energy gained through the Divination skill. It can be collected from Incandescent wisps, located south of the Poison Waste, at level 95 of Divination. Each harvest of an Incandescent wisp yields 24 Divination experience if an Enriched incandescent memory is harvested, and 12 Divination experience otherwise. Incandescent memories can be converted to Incandescent energy for 1 experience each, with the exact amount of energy per memory depending on your Divination level.
Level
Conversion rate
Standard
Enriched
95
3.5
5.25
96
3.78
5.66
97
4.05
6.08
98
4.33
6.49
99
4.6
6.9
One incandescent memory and 5 incandescent energy can be converted for 56.2 experience, while one enriched incandescent memory and 10 energy can be converted for 112.5 experience.
| Boon? | GE Price | Normal XP | Enhanced XP | Additional XP | GP/XP |
| --- | --- | --- | --- | --- | --- |
| No | 251 | 45 | 56.2 | 11.2 | 112.05 |
| Yes | 251 | 49.5 | 61.8 | 12.3 | 102.03 |
| Level | Initial resource | Energy | Result | Exp. | Profit/loss |
| --- | --- | --- | --- | --- | --- |
| 96 | 6 adamantite ore | 10 | Runite ore | 23.2 | 3,662 |