Captain Haskell is a member of the Imperial Guard. He was formerly a quartermaster, and was in charge of the Challenge System, and stood just northwest of the Heroes' Guild in Burthorpe, south of the Burthorpe Lodestone. Haskell explained the system and awarded reward bags for completing a daily challenge, which could be done through a right-click option. He was eventually replaced by Challenge Mistress Fara, and claims to have been 'promoted' to Captain after the troll attacks subsided, and put in charge of overseeing new recruits.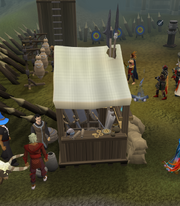 He returned as part of the Rival Challenges Treasure Hunter promotion, and can once again be found in Burthorpe, just east of Fara. He explains that since he liked his old quartermaster job, he partnered with Alice and decided to try and issue challenges independently, doing so via special tokens from Treasure Hunter, branding himself 'Captain Haskell, freelance quartermaster extraordinaire'. He theorises that his replacement Fara (or the Scourge of Burthorpe as he calls her) is a spy up to no good, taking supplies such as bows and daggers as part of something bigger.
Captain Haskell is possibly named after the Haskell programming language.