Imperial Guard Quartermaster
Discuss

0
26,136pages on
this wiki

Captain Haskell, the Imperial Guard Quartermaster for challenges stood just northwest of the Heroes' Guild in Burthorpe, south of the Burthorpe Lodestone. He could be easily found by the

icon on the minimap. Haskell explained the Challenge System and he would also award reward bags for completing a daily challenge, which can be done through a right-click option. After the update of Burthorpe and Taverley, he was replaced by Challenge Mistress Fara who took over his duties for him.
Players could talk to him to toggle which, if any, of their max-level skills they wished to continue receiving daily challenges for.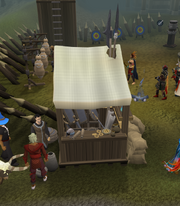 Haskell's introduction
(
link
)
Captain Haskell is possibly named after the Haskell programming language, a strongly typed significant whitespace language that focuses on functional design with novel concepts such as immutable state and variables being single use (i.e. the value is only assigned once and can never be altered at a later point).