Walkthrough
Edit
Start point

Talk to Wizard Mizgog on the 1st floor[

UK

] of the Wizards' Tower.
Member requirement
Free to play
Official difficulty
Novice
Length
Short (~12 minutes)
Requirements
None
Items required
Items from the tool belt are not listed unless they do not work or are not automatically added.
Enemies to defeat
Choleric imp (level 5)
Looking for imps
Edit
Talk to Wizard Mizgog on the 1st floor[

UK

] of the Wizard's Tower.
Go to the Water Altar (Lumbridge Swamp) and talk to the Phlegmatic Imp.

Talk to the imp again, with a bowl of hot water in your inventory.
Take the Phlegmatic bead it drops.

Go to the Fire Altar (North Al Kharid; outside the Duel Arena), talk to and fight the Choleric Imp.

Take the Choleric bead it drops

Go to the Earth Altar (south of Lumber Yard) and cheer up the Melancholic Imp.

Take the Melancholic bead it drops.

Go to the Air Altar (West of Varrock; East of Barbarian Village) and talk to the Sanguine Imp.

Race him around the Altar 4 times by clicking and running inside the checkpoints when they appear.
Take the Sanguine bead it drops.

Return and talk to Wizard Mizgog.
Quest complete!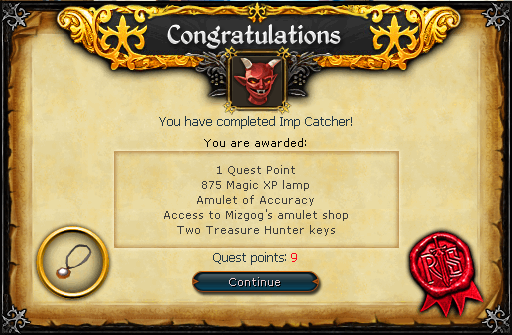 Magic XP lamp, worth 875 experience
Wizard Mizgog will from now on sell you amulets of accuracy for

5,000

coins.
2 Treasure Hunter keys and 2 Hearts of Ice
Ad blocker interference detected!
Wikia is a free-to-use site that makes money from advertising. We have a modified experience for viewers using ad blockers

Wikia is not accessible if you've made further modifications. Remove the custom ad blocker rule(s) and the page will load as expected.