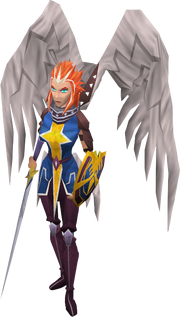 The Icyene are a race of winged beings who lived during and before the God Wars. The Icyene were loyal to the god Saradomin and were some of his most powerful followers. They are originally from another plane which was also home to the skypouncer.
Icyenes inhabited Hallowland during the second age along with humans. Hallowvale, capital of Hallowland, was one of Saradomin's most powerful fortresses at that time. Hallowland was named after their Icyene rulers, Queen Efaritay and King Ascertes Hallow.
When Zaros, ruler of the area north-east of Hallowvale and other areas such as Forinthry, was dethroned by his Mahjarrat general Zamorak, the God Wars began. Many Icyenes from Hallowvale left their city to help Saradomin in the war. Because Icyenes were extremely powerful beings, they proved themselves to be very useful to Saradomin's armies. Hallowvale, being a great fortress, was able to survive much of the wars.
However, Zamorak promised the Hallowland to the vampyre Lord Lowerniel Vergidyad Drakan in return for helping him in the overthrow of Zaros. Drakan attacked Hallowvale with an army of vampyres, werewolves and other evil beings. However, Hallowvale's forces of Icyenes were far stronger than Drakan's army. Seeing force would not gain him Hallowland, Drakan secretly kidnapped King Ascertes during the chaos of the battle, and so Queen Efaritay was forced to surrender.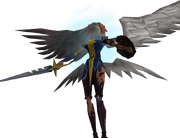 It is very likely that the Icyenes of Hallowvale were wiped out quickly after Drakan took control over the city. The other Icyenes across
Gielinor
were killed as well during the battles of the god wars. Today, Icyenes are extremely close to extinction, although rumours say that
Lord Drakan
kept some of the Icyene and they served him as
Vyrewatch
.
Today there's only one known full blood Icyene alive. Commander Zilyana led Saradomin's army during the battle of the Godsword, a weapon which was planned to be used to destroy Zamorak. However, the dungeon in which the battle was held was frozen by Guthix, which put an end to the God Wars.
The dungeon thawed during Year 169 of the Fifth Age, along with all the armies within it. Commander Zilyana still resides in the dungeon and can be fought by the players strong enough to challenge her. She uses extremely rapid melee attacks, hitting up to 300 points of damage.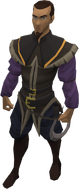 In the Branches of Darkmeyer, it has been revealed that Safalaan Hallow is a half-blood Icyene, something that was long speculated due to the fact that he has the same surname as Queen Efaritay, as well as his size, colour of eyes, and the mysterious powers he displays in the quest
Legacy of Seergaze
. He is also, obviously, the leader of the
Myreque
resistance against the Drakans, a fitting occupation for an Icyene. Safalaan was the son of Queen Efaritay, but had a human father, making him only a half-blood Icyene.
Nex, the champion of Zaros and leader of his armies, is described as having the combined characteristics of Icyene along with demons and vampyres. This could simply be superficial resemblance, or it could mean she is actually a hybrid. Demons and vampyres originally served Zaros before switching to Zamorak, so this might be a hint that the Icyene initially served Zaros before switching to Saradomin. Although icyene are "good" and vampyres/demons are "evil", serving together under Zaros would not have been a problem since Zaros was reportedly neither good nor evil and had followers of both persuasions.
Their appearance and abilities are allegedly based on the common perceptions of angels. This is supported by the fact that Icyenes like Commander Zilyana fit the description of angels, namely their stature, wings, and ability to fly.
The Icyene is a playable unit in the FunOrb game Armies of Gielinor.
Icyenes are also able to interbreed with humans. Safalaan Hallow is the result of such a union, as he is a half Icyene and half human. Elspeth is also purported to be another such individual, although this is only mentioned in the lore The Song From Before The War, and is not explored ingame.
There are statues of Icyene in the Abbey of St. Elspeth Citharede.
There is a carving of the face of an Icyene in the cellar of the Abbey of St. Elspeth Citharede.
A small carving of an Icyene can be found in a Saradomin statuette.

Since their apperance are also angelic like (as noted above), it is possible they are also featured on Saradomin carvings.