Ice strykewyrm
Discuss

56
22,528pages
on this wiki
Ice strykewyrm
Release date
8 February 2010 (Update)
Members?
Yes
Combat level
210
XP per kill
Unknown edit
Slayer level
93
Slayer XP
300
Assigned by
Duradel or Lapalok, Kuradal
Always drops
None
Examine text
Now that's just cold.

Combat stats
LP
Max hit
3,000
174 (Melee), 300 (Special attack)
Attack
Defence
Ranged
Magic
Unknown
Unknown
Unknown
Unknown
Other
Immune to Poison?
Immune to Stun?
No
Unknown edit
Attack Speed

Speed 6 (Interval: 2.4 seconds)

Aggressive?
Poisonous?
No
No
Attack styles
Weakness
Melee
Magic

Fire spells

[view template]
This article is about the slayer monster. For the pet unlocked through the Co-op Slayer rewards system, see
Freezy
.
Ice strykewyrms are the second highest level slayer monsters outside of Daemonheim (after Ganodermic beasts) and require a Slayer level of 93 to kill. They were introduced into the game along with jungle and desert strykewyrms, and they are the only monster that drops the staff of light.
They can only be killed when assigned on a slayer task, with the exception of one kill needed to complete a Fremennik Elite Task.
Players must complete The Tale of the Muspah quest before Slayer Masters may assign these creatures. The only Slayer masters who can assign Ice strykewyrms are Duradel/Lapalok and Kuradal, with Kuradal assigning them more often than Duradel/Lapalok.
When ice strykewyrms were first released, there was also the restriction that they could only be assigned to players who own a fire cape. However, one month after their release, ice strykewyrms became available to slayers who wished to purchase the ability to fight them by using 2,000 Slayer reward points. Despite this, purchasing the ability does not allow players to kill ice strykewyrms outside of a slayer task; it merely unlocks the ability to be assigned them without owning a fire cape and the ability to kill them without wearing a fire cape. An update introduced the completionist cape, which can replace the fire cape as an item to kill ice strykewyrms. To obtain it you will need to have obtained a fire cape at least once plus other requirements. An update on February 28 included the ability to use a TokHaar-Kal to damage Ice Strykewyrms.
As of 3 March 2010, players wearing a Fire cape while fighting ice strykewyrms deal 2.0x damage with fire-based spells. Additionally, players wearing a Fire cape deal 40 extra damage with any combat style. For players not wearing a fire cape, the strykewyrm's maximum hit is slightly increased.
Killing one Ice Strykewyrm is one of the elite Fremennik Province Tasks. Players who have not completed this elite task are able to make an Ice Strykewyrm surface even if they are not assigned them as a slayer task, and even without the required slayer level. However, to do any damage, the player must have boosted to 93 slayer, such as by using wild pie(s), and either be wearing a fire cape or using a cannon to deal any damage to it. Players without a fire cape or cannon will not be able to deal any damage to it whatsoever, including by means of Deflect Curses, Vengeance, rings of recoil, and/or poison. While purchasing the ability to slay Ice Strykewyrms for 2,000 Slayer reward points is an option, this can only be done by players with at least 93 Slayer and is not boostable.
After killing an ice strykewyrm for the Fremennik Tasks, players will no longer be able to surface an ice strykewyrm without having them assigned as a current slayer task.
Like all strykewyrms, ice strykewyrms reside underground beneath mounds until provoked by a player with the necessary Slayer task. Slayer Masters claim that only those who have been assigned to hunt them may surface the strykewyrms due to the strykewyrm being able to smell the intent of the slayer. By investigating the mounds, the strykewyrm will surface and attack the player. However, the strykewyrm will not attack for about two to three seconds, so players may take advantage of this time to change their position or to get a few good hits in. Players without the necessary task to kill strykewyrms will not be able to surface the strykewyrm and will instead perform the think emote.
Getting there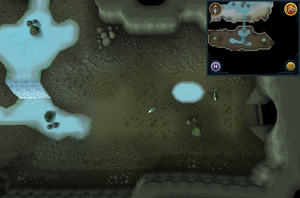 The Ice strykewyrms are located in a cave to the east of room just before the cave in which Jhallan was frozen during The Tale of the Muspah.
The quickest way to get to the Ice strykewyrms is to use Fairy ring DKS, which is just south of the cave. The entrance to the Ice strykewyrms is the waterfall to the east; If there is water coming through, blocking the way, the player must use a Spade to dam the eastern river in cave where the Muspah was frozen. This will stop the water from coming through and allowing the player to use the entrance.
Attack styles
Ice strykewyrms have four types of attacks: melee, magic, freezing spell and burrow. If the player is within one square of a strykewyrm, it will use any of the four attack types. At a distance, the strykewyrm mostly uses its magic attack but will occasionally use its freezing spell (which looks like Ice Barrage), which renders the player unable to move for around three seconds and cancels the player's next attack. Simply clicking the strykewyrm will resume attacking immediately.
The Ice strykewyrm's strongest attack is when it burrows underground during battle and then pops back up, dealing 300 life points to only the person it is fighting. There was an update to prevent other players from getting hit by someone else's Ice Strykewyrm, but it does show an animation of that getting thrown out of the way, but not losing life points. The strykewyrm becomes invulnerable during this time, so attempting to attack it while it is burrowed is futile. This attack can be easily avoided by quickly moving two steps away in any direction. The further away the player is from the strykewyrm when it burrows (such as when maging from a distance) the easier it is to avoid this attack. It can also use the burrow attack if a player walks into its square and stays there for a couple of seconds, so it is recommended not to do this. The strykewyrm will not use the burrow attack at all if the player is standing next to an obstacle, such as the cave wall or a stalagmite. Some players believe moving away from the burrow is easier than trying to stand by an obstacle. However, other players believe it is easy to use obstacles. Ranged and Magic users can simply move to the nearest obstacle that is out of melee range when the strykewyrm surfaces. Melee users have to take a little more care, ensuring that when they investigate the mound there will be an obstacle they can stand next to and yet still can melee the strykewyrm. There are plenty of obstacles in the cave, so this is not very difficult to manage.
Strategies
Despite requiring level 93 slayer, these creatures have remarkably low defence and may therefore be killed effectively by many different methods. Using an Abyssal whip seems to be more effective than using a Godsword, as both weapons frequently hit high but the whip is significantly faster. However, using magic or ranged is safer than using melee. Some players report that the wyrms can deal damage at a faster rate than a player wearing a full Guthan's set and praying against magic is able to heal.
Ice strykewyrms are weak against fire. Wearing a Fire cape increases all damage dealt to a wyrm by 40. Furthermore, all fire spells hit for 1.5x damage (2x damage if the player is wearing a Fire cape).
Fire Surge
is apparently the most effective way to kill these creatures, but this spell requires level 95 magic. Players with lower magic levels can use
Fire Wave
instead as these spells also deal a fair amount of damage. It is also a good idea for mages to bring a
Vecna Skull
to boost the players magic level. This will further increase damage and may possibly allow for the casting of a more powerful fire spell until the boost wears off.
In some circumstances it is possible that a single magic spell cast will appear as two hit markers simultaneously. At this time it is unkown what causes this, but it seems that the two hits can add up to be significantly more than the damage that is achievable with one hit marker alone.
Casting ice spells from the Ancient Magicks spellbook will heal the Ice strykewyrms instead of damaging them. [1].
Mages should consider standing within melee distance of the wyrms, as their melee attacks are very inaccurate in comparison to their magic attacks. A combination of regular shark drops, Enhanced excalibur and the healing via the high damage output of Fire spells using Soul Split very quickly nullifies any damage accumulated.
A prayer-costlier, though entirely safe method is to use Protect from Magic or Deflect Magic as they stop all damage from the strykewyrm's magic and freezing attacks (although the freezing attack still immobilises the player) when standing at a distance. When using prayer, players should consider wearing armour with good prayer bonus, such as Dagon'hai robes set, to prolong their prayer points. If Protect from Magic or Deflect Magic is used and the player is standing at least one square away from the wyrm beside a wall or stalactite, no damage will be taken; when standing next to a wall or stalactite, the strykewyrm is unable to burrow into the ground.
If using melee, players may find it more effective to Protect from Melee or Deflect Melee instead of Magic. While in melee distance, the strykewyrms rarely use their magic based attacks, but their melee attacks can quickly build up if the player is unlucky. If using a Protect or Deflect prayer (Magic or Melee), it is very helpful, and almost necessary that the player brings a healing weapon or familiar.
Players with 92 prayer or above can also use Soul Split to utilise the heavy damage dealt by wearing a fire cape and/or attacking with fire spells. Since a player can hit well over 1000 in one hit, they will recover over 200 life points. The player should beware when using this method, in case the Strykewyrm gets a string of lucky hits and the player gets a string of unlucky hits. The shark drops come in quite handy in this situation.
Drops
Charms
Weapons
Armour
Runes/Talismans
Ammunition
Gems/Ores/Bars
Herbs
All herb drops are noted.
Seeds
Other
Note

- 200 coins will always be dropped along with the magic log drop.
Rare drop table drops
This monster drops items from the rare drop table.
The ring of wealth improves the chances if equipped but is not required to access the table.
Show/hide rare drop table

Item
Quantity
Rarity
GE Market Price
Coins
250; 381; 450; 3,000; 9,000; 12,000
Common
Not sold
Uncut sapphire
1
Common
1,143
Uncut emerald
1
Common
1,783
Uncut ruby
1
Common
3,576
Loop half of a key
1
Uncommon
8,548
Tooth half of a key
1
Uncommon
12,668
Uncut diamond
1
Uncommon
7,160
Uncut dragonstone
1
Rare
14,935
Dragonstone
1
Rare
9,966
Dragon dagger
1
Uncommon
17,221
Rune battleaxe
1
Rare
24,627
Rune javelin
5
Rare
1,270
Adamant javelin
20
Very rare
920
Rune spear
1
Very rare
12,048
Dragon spear
1
Very rare
36,856
Dragon dagger
50 (noted)
Very rare
861,050
Rune kiteshield
1
Very rare
32,145
Shield left half
1
Very rare
65,188
Dragon helm
1
Very rare
59,636
Adamant bolts
200
Uncommon
17,400
Rune arrow
150–200; 500
Rare
29,850–199
Onyx bolts
150
Rare
1,303,050
Battlestaff
200 (noted)
Rare
1,665,400
Air orb
1,000 (noted)
Rare
1,418,000
Fire orb
1,000 (noted)
Rare
1,612,000
Vecna skull
1
Very rare
133,474
Water talisman
1
Uncommon
4,721
Earth talisman
25–35 (noted)
Uncommon
19,825–27,755
Fire talisman
25–35 (noted)
Uncommon
50,450–70,630
Chaos talisman
1
Uncommon
227
Nature talisman
1
Uncommon
270
Pure essence
500–15,000 (noted)
Uncommon
42,500–1,275,000
Nature rune
47–77
Rare
5,217–8,547
Soul rune
20
Rare
2,420
Death rune
50; 121
Rare
93
Blood rune
50
Rare
8,150
Raw swordfish
125 – 250; 1,000 (noted)
Uncommon
37,250–298
Raw shark
250–500 (noted)
Uncommon
246,500–493,000
Big bones
150 – 500 (noted)
Uncommon
67,350–224,500
Coal
150–7,500 (noted)
Uncommon
41,700–2,085,000
Adamantite ore
150–800 (noted)
Uncommon
227,700–1,214,400
Silver ore
100 (noted)
Rare
10,500
Adamant bar
1,000–7,000 (noted)
Rare
3,168,000–22,176,000
Runite ore
100 (noted)
Rare
1,041,900
Rune bar
1,50,150 (noted)
Rare
13,002–1,950,300
Clean ranarr
33 (noted)
Uncommon
74,448
Clean toadflax
25–250 (noted)
Uncommon
95,050–950,500
Clean snapdragon
30–120 (noted)
Uncommon
106,530–426,120
Clean torstol
10–100 (noted)
Uncommon
108,710–1,087,100
Saradomin brew (4)
250 (noted)
Very rare
172,000
Watermelon seed
3
Uncommon
6,030
Yew seed
1–50
Rare
71,385–3,569,250
Magic seed
1–6
Rare
160,602–963,612
Palm tree seed
10
Rare
1,064,590
Snapdragon seed
1
Rare
2,196
Torstol seed
1–31
Rare
78,509–2,433,779
Fellstalk seed
2
Rare
932
Yew logs
100–20,000 (noted)
Rare
56,100–11,220,000
See also
Trivia
Ice strykewyrms, along with the other Strykewyrms, were the first monsters to incorporate particle effects.
If a player runs behind an obstacle just as a strykewyrm burrows into the ground, the strykewyrm will disappear. Although it will seem to respawn normally, it will leave no drops. This does not count as a kill for the player. This glitch has not been fixed.
When the TokHaar-Kal was given the ability to count as a fire cape when fighting Ice strykewyrms it did not give the bonus damage effect, it simply allowed players to deal normal damage the same way as the slayer reward, this was later fixed with an update on March 13.
When using a magical blastbox or a celestial surgebox to cast fire spells on an ice strykewyrm, the critical hit of the box is more than 25% of the normal damage, even sometimes more than it if the first hit is low (less than about 200). This could be explained as the critical hit being taken as another fire spell, and getting the same bonus damages. This also happens when fighting Glacors.
References
^ Mod Emilee. "Game Update FAQ - 08/02/10". 11-Feb-2010 10:05:02. Recent Updates Forums.

*

^

As quoted by Jagex on the official update faq, the staff of light's drop rate is the same as that of the abyssal whip. During Runefest's big question sessions, the drop rate of the abyssal whip was revealed to be 1/512. Therefore the drop rate of the staff of light must also be 1/512.

^

Always dropped with a seed
Jungle strykewyrm •
Desert strykewyrm •
Ice strykewyrm(Freezy pet) •

WildyWyrm
Slayer Tower

Crawling Hand • Banshee • Infernal Mage • Bloodveld • Aberrant spectre • Gargoyle • Nechryael • Abyssal demon

Fremennik Slayer Dungeon

Cave crawler • Rockslug • Cockatrice • Pyrefiend • Basilisk • Jelly • Turoth • Kurask • Aquanite

Lumbridge Swamp Caves
Poison Waste Slayer Dungeon
Pollnivneach Slayer Dungeon

Banshee (Mighty) • Cave crawler (Monstrous) • Basilisk (boss) • Turoth (Mightiest and Swarming turoth) • Kurask (overlord) • Aberrant spectre

Meiyerditch Dungeon
God Wars Dungeon

Pyrefiend • Bloodveld • Spiritual ranger • Spiritual warrior • Spiritual mage

Jadinko Lair

Mutated jadinko baby • Mutated jadinko guard • Mutated jadinko male

Polypore Dungeon

Grifolaroo • Grifolapine • Ganodermic runt • Ganodermic beast

Daemonheim

Crawling hand • Cave crawler • Cave slime • Pyrefiend • Night spider • Jelly • Spiritual guardian • Seeker • Nechryael • Edimmu • Soulgazer

Others

Gelatinous Abomination • Desert Lizard • Mogre • Harpie Bug Swarm • Killerwatt • Molanisk • Terror dog • Brine rat • Fever spider • Mutated zygomite • Cave horror • 'Rum'-pumped crab • Dust devil • Skeletal Wyvern • Jungle strykewyrm • Desert strykewyrm • Dark beast • Ice strykewyrm

Specials

Bork • Skeletal horror • Phoenix • Jade vine(wild)

Slayer pets

| | |
| --- | --- |
| Soul Wars | Creeping hand • Minitrice • Baby basilisk • Baby kurask • Abyssal minion • TzRek-Jad |
| Social Slayer | |
| Other | Cresbot |