Ibis
Level
56
Duration (

min

)
38
Points cost
6
Race
Bird
Abilities
Special moves
Fish rain
Combat level
Non-combatant
Examine text
I wonder if it uses the 'Crane' technique.
[view] • [talk]

The Ibis is a summoning familiar which requires level 56 Summoning to use. Although the Ibis does not aid in combat, it assists a player with an invisible Fishing boost of 3 levels.
Note: As with any invisible boost, it does not grant abilities above the player's level (e.g., the ability to catch new kinds of fish). It does, however, increase the success rate of catching fish.
While the player is fishing, the Ibis will forage tuna and swordfish. The Ibis produces fish when the player fishes at any fishing spot, and can hold up to 30 fish. (however this is very unlikely without renewing it a few times) Each time the Ibis catches a swordfish, you gain 10 Fishing experience. This is unaffected by the use of swordfish gloves or the sacred clay harpoon. Players do not gain Fishing experience each time the Ibis forages a tuna.
Interestingly, whenever you are aided by your Ibis companion while practicing the art of Barbarian fishing using a Barbarian rod, or net fishing inside the Piscatoris Fishing Colony, it tends to only produce swordfish. The Ibis also catches only swordfish while the player is fishing in Shilo Village, Living Rock Caverns and on Jatizso.
Ibis pouch
Edit
An ibis pouch is created by using an summoning obelisk with an empty pouch, 109 spirit shards, a green charm and a normal harpoon in the player's inventory.
Gerrant in Port Sarim sells 1000 Harpoons at 45 gp each and is right next to the Port Sarim lodestone, as an alternative to buying them on the Grand Exchange.
A barb-tail harpoon does not work in creating this familiar. If players exchange their ibis pouches with Bogrog, they will receive 77 spirit shards per pouch.
Fish rain scroll
Edit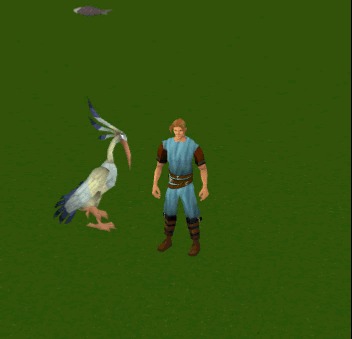 Fish rain is the special move of the ibis. The special move makes fish (raw shrimp, bass, cod, and mackerel) fall out of the sky. Fish Rain can be activated by having a Fish rain scroll in the player's inventory. Using the scroll costs 12 special points. It can be used 5 times before the player will have to wait for the special to raise. If cast in a player owned house it will not generate fish.
The ibis's examine text, "I wonder if it uses the 'Crane' technique," is a reference to the Crane style of many martial arts and to the movie "The Karate Kid".
Many birds that look like the ibis are sometimes referred to as 'Crane birds' because of their long necks and beaks, which could be one reason for its examine text.
The ibis' special move is similar to that of the spirit spider, fruit bat, and Macaw.
While fishing, the ibis could sometimes disappear without warning. This has yet to be fixed.
Gold charm

Spirit wolf • Dreadfowl • Spirit spider • Thorny snail • Granite crab • Spirit mosquito • Bull ant • Spirit terrorbird • Barker toad • War tortoise • Arctic bear

Green charm

Desert wyrm • Compost mound • Beaver • Void ravager • Macaw • Spirit cockatrice • Spirit guthatrice • Spirit saratrice • Spirit zamatrice • Spirit pengatrice • Spirit coraxatrice • Spirit vulatrice • Magpie • Abyssal parasite • Ibis • Abyssal lurker • Bunyip • Fruit bat • Forge regent • Giant ent • Hydra • Unicorn stallion • Abyssal titan

Crimson charm

Spirit scorpion • Spirit Tz-Kih • Vampyre bat • Honey badger • Evil turnip • Pyrelord • Bloated leech • Smoke devil • Spirit cobra • Stranger plant • Ravenous locust • Phoenix • Granite lobster • Praying mantis • Talon beast • Spirit dagannoth • Swamp titan • Wolpertinger • Iron titan • Pack yak • Steel titan

Blue charm

Albino rat • Spirit kalphite • Giant chinchompa • Void shifter • Void spinner • Void torcher • Bronze minotaur • Iron minotaur • Spirit jelly • Steel minotaur • Spirit graahk • Spirit kyatt • Spirit larupia • Karamthulhu overlord • Mithril minotaur • Obsidian golem • Adamant minotaur • Fire titan • Ice titan • Moss titan • Lava titan • Rune minotaur • Geyser titan

Other

See also: Summoning • Beast of Burden • Forager • Charms • Summoning Obelisks • Summoning pets • Summoning pouches • Summoning scrolls • Wishing well • Dungeoneering familiars