Hourglass
Discuss

7
22,485pages
on this wiki
For other hourglasses, see Hourglass (2007) and Hourglass (Recruitment Drive).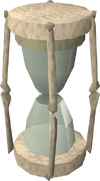 The Hourglass was a members-only reward from the 2011 Hallowe'en event, accompanied by the Deathcon t-shirt. It may be stored in the Toy box of a Player-owned house. If lost, it can be retrieved from Diango.
Combat Stats

| Class | Slot |
| --- | --- |
| None | |

Weapons
Main
Off
Damage
-
-
Accuracy
-
-
Type
-
-
Attributes
Armour rating

0

Life bonus

+0

Prayer bonus

0

Critical bonuses

0%

0%

0%

Compare item

A player wielding the hourglass

[view] • [talk]
The examine text refers to the Sands of Time, a metaphorical hourglass which is said to measure just how much time a dying person has left before they perish.
This is the third members' only Holiday Item, and the second to be announced to the public as such.
This was the only shield slot Holiday event item, until the release of the Diamond sceptre.
Easter

Easter egg • Bunny ears • Rubber chicken • Easter ring • Chicken set • Chocatrice cape • Easter carrot • Squirrel ears • Sunbeam crown • Icicle crown • Egg on face mask • Chocolate egg on face mask • Eggsterminator

Hallowe'en

Pumpkin • Halloween masks • Scythe • Zombie head • Jack lantern mask • Skeleton set • Grim reaper hood • Warlock / Witch costume • Web cloak • Eek • Bone brooch • Deathcon lanyard • Deathcon t-shirt • Hourglass • Sock mask • Buskin mask • Hallowed robes • Unhallowed robes • Ectoplasmator

Christmas

Christmas cracker • Partyhats • Santa hat • Yo-yo • Hats and scarves • Marionettes • Wintumber tree • Reindeer hat • Snow globe • Santa costume • Ice amulet • Ghost costume • Candy cane • Salty claws hat • Heimland games souvenir • Christmas wand • Sparkles • Santa beard

Thanksgiving
RuneFest

Flagstaff of festivities • Runefest 2011 hood • Golden scythe

Commemorative

Golden cracker and (hammer) • 200m glasses • 10th anniversary cake and candles

Cryptic Clue Fest

Magnifying glass • Investigator's outfit • Rock fragment • Avalani's robes • Mysterious book • Diamond sceptre • Diamond crown

Other

Lily of the valley • Oktoberfest pretzel • Carnival headdress • Skull mask