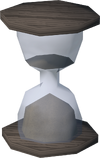 The hourglass is a quest item found in Sir Tinley's room during Recruitment Drive. It can be taken before talking to Sir Tinley. However if picked up after talking to him, you will fail the patience test, and must start over by talking to Sir Tiffy Cashien.
Ad blocker interference detected!
Wikia is a free-to-use site that makes money from advertising. We have a modified experience for viewers using ad blockers

Wikia is not accessible if you've made further modifications. Remove the custom ad blocker rule(s) and the page will load as expected.