The Horn of Glory is a large horn used in the Barbarian Assault minigame. Using it allows any player to shout commands to all players fighting in the game.
Because the Horn of Glory is inconveniently located in a corner of the arena, it is somewhat rarely used. Usually, the player that uses it is the second in their position.
On the 10th Wave, when the Penance Queen arrives, the Horn of Glory is blocked by rubble and cannot be used for the rest of the round.
The horn of glory is usually used in cases where one of the team players is idle or someone else is not functioning as expected by not calling an order to other player(s).
Unfortunately, the horn can also be abused by mischievous players to mislead other players.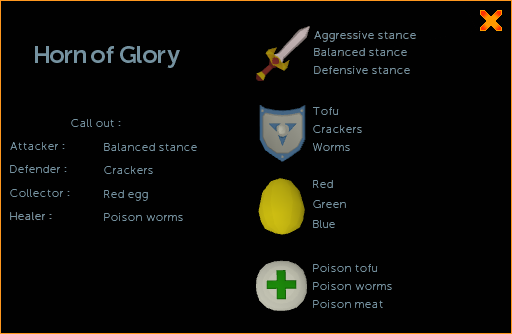 Ad blocker interference detected!
Wikia is a free-to-use site that makes money from advertising. We have a modified experience for viewers using ad blockers

Wikia is not accessible if you've made further modifications. Remove the custom ad blocker rule(s) and the page will load as expected.