Walkthrough
Edit
Start point

Speak to King Arthur in Camelot.
Member requirement
Members only
Official difficulty
Intermediate
Official length
Short to Medium
Requirements
The below skill requirements are not boostable unless stated otherwise.

Quests:

Items required
Items from the tool belt are not listed unless they do not work or are not automatically added.
Recommended
Enemies to defeat
Royal Hunt
Edit
The Fisher King
Edit
An Other Realm
Edit
Black Guardian
Edit
Go north-west and defeat the guardian with Excalibur.
Talk to the fisherman by the river.
Go west, to the castle. Take the grail bell on the floor and ring it.
Head upstairs and speak to the Fisher King. Make sure to ask him about his son.
Talk to King Arthur in Camelot Castle.
Head into the eastern house in the Goblin village and open the sacks to find Sir Percival.
Return to the Fisher King's castle in his realm by blowing your whistle north west of Brimhaven.
Go up the staircase on the other side of the castle, climbing all the way up and grab the Holy grail.
Go back to King Arthur.
Quest complete!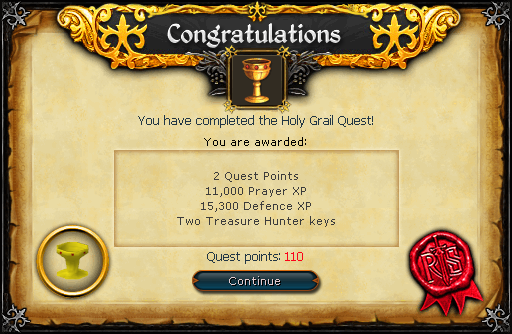 Music unlocked
These music tracks are unlocked when in Brimhaven, no music is unique to this quest.
NPCs
Items
Locations
Music
Miscellaneous
Quick guide • Transcript