This article is about the Fremennik. For the dwarf, see
Hilda
.
Hilda
, along with
Torsteg
, used to guard
Daemonheim
, until Jagex opened it on
12 April
2010
. Prior to Daemonheim's release, the castle they were guarding was known to be the source of the
strange power
, and was later revealed to contain the
Dungeoneering
dungeons. On
1 February
2011
, she and
Torsteg
were placed back along with a
guard
.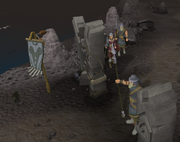 A shield identical to Hilda's can be seen on the ground just outside the front archway of the castle.
The Heimland games souvenir's emote shows a snowman with the same type of axe and shield as Hilda.
There is a ghost in Daemonheim that looks a lot like her.
Her examine text used to be: "Big axe, big shield: must be Fremennik."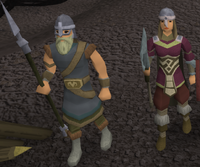 Ad blocker interference detected!
Wikia is a free-to-use site that makes money from advertising. We have a modified experience for viewers using ad blockers

Wikia is not accessible if you've made further modifications. Remove the custom ad blocker rule(s) and the page will load as expected.