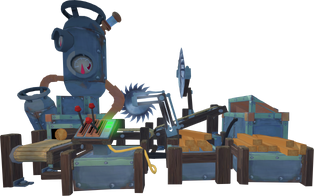 The high capacity plank maker is a machine that can be built in the Invention Guild basement at level 117 Invention. It is an upgraded version of the plank maker. It automatically converts logs into planks, even while the player is offline. The plank maker does not incur the normal coin cost for converting logs to planks.
Every hour, on the hour, the high capacity plank maker will process up to 40 items deposited in it, consuming up to 600 machine charge. Building it requires 65 of the power allotment supplied by the generator. It can hold up to 7,500 items over the three input slots. Researching the high capacity plank maker blueprint awards 256,568 Invention experience.
Once the plank maker has processed some logs, the resulting planks may be withdrawn via the machine management interface.
The high capacity plank maker processes 40 items per hour at a cost of 600 machine charge. Thus, each item costs 15 machine charge to process - an equivalent of 371.3 coins per item.
The high capacity plank maker processes 960 items per day at a cost of 14,400 machine charge (approximately 4.8 divine charges). When completely filled, it will take 7 days 20 hour to process the 7,500 input items, using 112,800 machine charges (approximately 37.6 divine charges).
Log
Plank
Profit via
machine
Daily profit
Weekly profit
Profit via
sawmill
Profit via
portable/cape
 Logs
(

368

)
 Plank
(

680

)

-59.25

-56,880

-398,160

212

222

 Oak logs
(

96

)
 Oak plank
(

467

)

-0.25

-240

-1,680

121

146

 Teak logs
(

206

)
 Teak plank
(

796

)

218.75

210,000

1,470,000

90

140

 Mahogany logs
(

769

)
 Mahogany plank
(

1,656

)

515.75

495,120

3,465,840

-613

-463
Ad blocker interference detected!
Wikia is a free-to-use site that makes money from advertising. We have a modified experience for viewers using ad blockers

Wikia is not accessible if you've made further modifications. Remove the custom ad blocker rule(s) and the page will load as expected.