High Risk Wilderness World
Discuss

6
22,529pages
on this wiki

You have been warned!
(
link
)
Jingle that warns before entering a high risk world or, previously, a bounty or PvP world.
High Risk Wilderness Worlds (currently world 137) are worlds that were added to the game with the Free Trade and Wilderness update on 1st February 2011. These worlds replaced the now non-existent Bounty worlds (+1) and PvP Worlds. Whilst in the Wilderness on these worlds Protect Item prayer (and Protect Item curse) is inactive and if you die you will lose your items. Going onto these worlds is a good way to make money if you have got a high Combat Level with good armour and weapons; it is highly recommended that you only take items into the Wilderness that you are prepared to lose! With the Protect Item prayer being disabled in the wilderness caution is to be taken into consideration throughout.
You will always get the items your opponent was wearing, wielding and carrying upon killing them. There is currently one High-Risk Wilderness World, this is world 137 for Pay-to-Play (members).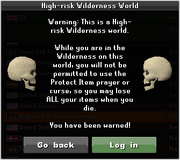 A warning is shown on attempting to log-in to a high risk world from the lobby. This is not seen when using "join" or returning to the world from the lobby. Upon log-in a second warning is shown in the form of a chatbox message.
With the Bot-Nuke update of 25 October 2011, worlds 54, 56, 108 and 114 all became High-risk Wilderness worlds. By 15 May 2013 these were no longer high-risk.