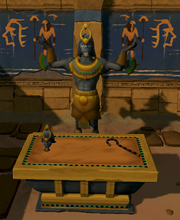 Het tomb can be reached after completing the Our Man in the North quest. The entrance to it is located behind the Het Statue in the centre of the Duel Arena. It contains the Het mask and Heka. Entering the tomb for the first time awards the player 20,000 Strength experience. The door requires level 80 Strength to open.
Asgarnia
Kandarin
Karamja
Kharidian Desert
Het tomb
Misthalin
Morytania
Fremennik Province
Feldip Hills
Wilderness
Troll Country & The North
Keldagrim
Others
Ad blocker interference detected!
Wikia is a free-to-use site that makes money from advertising. We have a modified experience for viewers using ad blockers

Wikia is not accessible if you've made further modifications. Remove the custom ad blocker rule(s) and the page will load as expected.