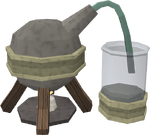 Herblore supplies are looted in Wilderness Warbands. They will give Herblore experience once given to Quercus, who is just north-west of the Grand Exchange.
If any number of Herblore supplies (or any Warband supplies) are in inventory whilst in the Wilderness, being attacked by any level of player in Multi-way combat is possible. Additionally, teleport on members' worlds with supplies in your inventory is not possible, and logging out in the Wilderness with supplies will cause them to disappear. If a safe area is entered, all held supplies would have "(untradeable)" added to their name and not appear for anyone else if the player dies.

 template = Template:Wilderness Warband Calc
 form = dlf
 result = dlr
 param = 1|Level||int|1-120

Herblore Supplies Calculator
Calculator is loading...
Experience
0 Experience Points
Rewards
NPCs

| | |
| --- | --- |
| Saradominist | |
| Zamorakian | |
| Armadylean | |
| Bandosian | |
| Other | |
Ad blocker interference detected!
Wikia is a free-to-use site that makes money from advertising. We have a modified experience for viewers using ad blockers

Wikia is not accessible if you've made further modifications. Remove the custom ad blocker rule(s) and the page will load as expected.