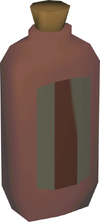 Herbal tincture is a quest item used in the One Small Favour quest. It is obtained by talking to the Apothecary in Varrock. The player is asked to make an airtight pot to replace the one the Apothecary drops in return for the tincture. It must then be taken to Horvik to complete the next step in the quest.
Disassembly
Edit
Ad blocker interference detected!
Wikia is a free-to-use site that makes money from advertising. We have a modified experience for viewers using ad blockers

Wikia is not accessible if you've made further modifications. Remove the custom ad blocker rule(s) and the page will load as expected.