Lady Henryeta Carnillean is the wife of Sir Ceril Carnillean, a wealthy nobleman of Ardougne, and the head of the Carnillean Family. Henryeta lives in Carnillean Mansion, in the southwestern end of East Ardougne, where she features briefly in the Hazeel Cult and Carnillean Rising quests. She and Ceril have a son, Phillip Carnillean, who is very spoiled. The bookcase in her room contains a book on the Carnillean family history.
Players may claim Rover the red dragon from her once they have at least 200 quest points and have claimed the first four lamps from Philipe after completing Carnillean Rising. Spot the black dragon will be able to be claimed from her once the player has at least 400 quest points, and have claimed 8 lamps from Philipe.

Henryeta knows of the new job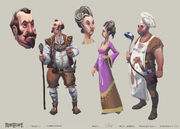 Ad blocker interference detected!
Wikia is a free-to-use site that makes money from advertising. We have a modified experience for viewers using ad blockers

Wikia is not accessible if you've made further modifications. Remove the custom ad blocker rule(s) and the page will load as expected.