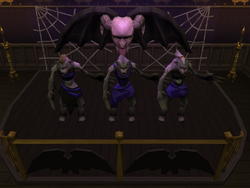 Helga is a werewolf located in the Grim Reaper's house. Players meet her when they have to create moonshine for the werewolf singers. According to the other werewolf singers, she is in "a world of her own." She gives players an incorrect clue for making moonshine, saying the blood always comes last and never comes first. She also frequently misremembers her own name, differently for each player. Also, she is one of the only werewolves to be featured in F2P other than Greta, Moira, and Shanty Claws.
Ad blocker interference detected!
Wikia is a free-to-use site that makes money from advertising. We have a modified experience for viewers using ad blockers

Wikia is not accessible if you've made further modifications. Remove the custom ad blocker rule(s) and the page will load as expected.